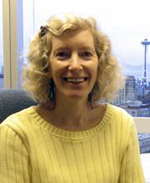 Research Associate Professor, Medicine - General Internal Medicine
Adjunct Research Associate Professor, Epidemiology

Education
MPH
Epidemiology, University of Washington, 1994
PhD
Biochemistry, Montana State University, 1982
BS
Biochemical Engineering, Institut National des Sciences Appliquées, 1995
Contact Info
Cardiovascular Health Research Unit
1730 Minor Ave, Suite 1360
Seattle, WA 98101
Tel: 206-221-2780
rozenl@uw.edu
Projects
Sphingolipids, Diabetes, and Cardiovascular Disease
Epoxyeicosatrienoic Acids, Diabetes, and Cardiovascular Disease
Circulating Dietary & Metabolic Fatty Acids, Major Cardiovascular Outcomes, & Healthy Aging
Links
http://chru.washington.edu/faculty/rozenl/
Research Interests
Dr. Lemaitre is interested in new modifiable lipidomic biomarkers that may predict diabetes incidence and cardiovascular complications, with the goal of novel interventions in high risk populations. She is also interested in reducing the burden of aging and currently studies how changes in circulating fatty acids, biomarkers of diet and metabolism, may relate to cardiovascular disease and other aging outcomes in older adults.
Publications
Associations of Plasma Phospholipid SFAs with Total and Cause-Specific Mortality in Older Adults Differ According to SFA Chain Length. Fretts AM, Mozaffarian D, Siscovick DS, King IB, McKnight B, Psaty BM, Rimm EB, Sitlani C, Sacks FM, Song X, Sotoodehnia N, Spiegelman D, Lemaitre RN. J Nutr. 2015 Dec 23. pii: jn222117.

Plasma phospholipid very-long-chain saturated fatty acids and incident diabetes in older adults: the Cardiovascular Health Study. Lemaitre RN, Fretts AM, Sitlani CM, Biggs ML, Mukamal K, King IB, Song X, Djoussé L, Siscovick DS, McKnight B, Sotoodehnia N, Kizer JR, Mozaffarian D. Am J Clin Nutr. 2015;101:1047-54.

Consumption of meat is associated with higher fasting glucose and insulin concentrations regardless of glucose and insulin genetic risk scores: a meta-analysis of 50,345 Caucasians. Fretts AM, Follis JL, Nettleton JA, Lemaitre RN, et al. Am J Clin Nutr. 2015;102:1266-78.

Genetic Loci Associated with Circulating Levels of Very Long-Chain Saturated Fatty Acids. Lemaitre RN, King IB, Kabagambe EK, Wu JH, et al. J Lipid Res. 2015;56:176-84.

Common variation in fatty acid metabolic genes and risk of incident sudden cardiac arrest. Lemaitre RN, Johnson CO, Hesselson S, Sotoodhenia N, et al. Heart Rhythm. 2014;11:471-7.