News & Events
Epi Seminar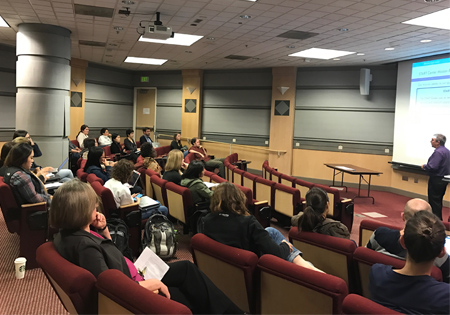 The Epi Seminar Series is sponsored by the University of Washington Department of Epidemiology (UW Epi) for students, staff, and faculty, as well as community members interested in public health. Speakers and topics are selected to highlight the diversity of research ongoing in the department.
This seminar is open to other academic departments and partners. Sign up for Epi Seminar emails through the UW Preference Center.
AUTUMN 2023
Please register to receive the Zoom link. Details for Autumn Quarter schedule and speakers coming soon.
October 10 | 3:30 – 4:50 PM
Power and Positionality in Epidemiologic Research and Work
UW Epi Equity, Diversity, and Inclusion (EDI) Committee members Zeruiah Buchanan, Mike Barry, and Miriam G. Flores Moreno
October 24 | 3:30 – 4:50 PM
Housing and Health
Tiffani McCoy from Real Change News; Tim Craven, Raven Lotus, Aaron Davis, and Dr. Seema Clifasefi from The Doorway Project
November 28 | 3:30 – 4:50 PM
Labor and Health
Speakers from the Harry Bridges Labor Center
December 5 | 3:30 – 4:50 PM
Bias (not the statistical kind!) in Qualitative, Quantitative, and AI-based Research