News & Events
Epi Seminar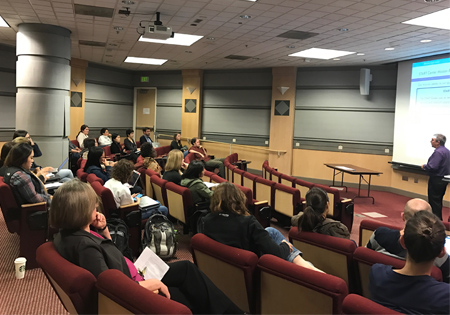 The Epi Seminar Series is sponsored by the Department of Epidemiology for students, staff, and faculty, as well as practicing professionals in the field. Speakers and topics are selected to highlight the diversity of research ongoing in the department.
This seminar is open to other academic departments and partners. Sign up for Epi Seminar emails through the UW Preference Center.
WINTER 2022
Please check back soon for additional information. Register to receive the Zoom link.
January 4, 3:30 – 4:50 PM
Strategies for Developing and Implementing DEI Focused Research Studies
Dr. Ayesha Boyce
Associate Professor, Division of Educational Leadership and Innovation, Arizona State University
January 11, 3:30 – 4:50 PM
Racism and Public Health: A Brief Overview and Discussion
Dr. Mienah Sharif
Assistant Professor, UW Department of Epidemiology
January 18, 3:30 – 4:50 PM
Environmental Surveillance as a Tool for Addressing SARS-CoV-2
Dr. Scott Meschke
Professor and Associate Chair, UW Department of Environmental & Occupational Health Sciences
January 25, 3:30 – 4:50 PM
START Center
UW Department of Global Health
February 1, 2021, 3:30 – 4:50 PM
Dr. Yaw Nyame
Assistant Professor, UW Department of Urology
February 8, 3:30 – 4:50 PM
Dr. Clarence Spigner
Professor, UW Department of Health Systems and Population Health
Adjunct Professor, UW Departments of American Ethnic Studies and Global Health
February 15, 3:30 – 4:50 PM
Dr. Uchechi A. Mitchell
Division of Community Health Sciences, University of Illinois at Chicago
February 22, 3:30 – 4:50 PM
Dr. Dayna Johnson
Department of Epidemiology, Emory University
March 1, 3:30 – 4:50 PM
To be confirmed
March 8, 3:30 – 4:50 PM
To be confirmed
For questions, contact Faculty Seminar Coordinator: Sara Lindstroem (saralind@uw.edu).