News & Events
Epi Seminar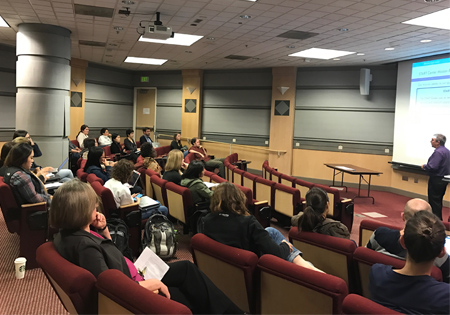 The Epi Seminar Series is sponsored by the Department of Epidemiology for students, staff, and faculty, as well as practicing professionals in the field. Speakers and topics are selected to highlight the diversity of research ongoing in the department.
This seminar is open to other academic departments and partners. Sign up for Epi Seminar emails through the UW Preference Center.
SPRING 2023
Please register to receive the Zoom link. Additional information will be added to this page throughout the quarter.
March 28, 3:30 – 4:50 PM
Complex Mixtures: Questions and Methods to Address Them
Ghassan Hamra
April 4, 3:30 – 4:50 PM
Aisha Dickerson
April 11, 3:30 – 4:50 PM
Hazel Nichols
April 25, 3:30 – 4:50 PM
Derek Ng
May 2, 3:30 – 4:50 PM
Marcia Pescador Jimenez
May 9, 3:30 – 4:50 PM
Tyler VanderWeele
May 16, 3:30 – 4:50 PM
Barbra Dickerman
May 23, 3:30 – 4:50 PM
Collette Ncube
May 30, 3:30 – 4:50 PM
Javier Cepeda