News & Events
Epi Seminar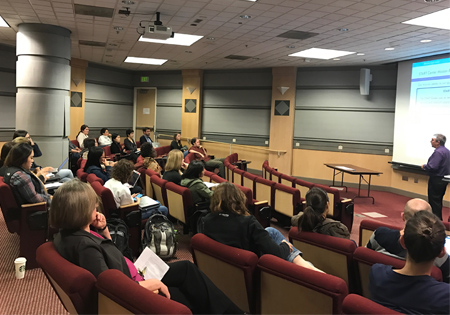 The Epi Seminar Series is sponsored by the Department of Epidemiology for students, staff, and faculty, as well as practicing professionals in the field. Speakers and topics are selected to highlight the diversity of research ongoing in the department.
Spring quarter seminars will be held each week via Zoom. Registration is required to receive the Zoom URL.
This seminar is open to other academic departments and partners. Sign up for Epi Seminar emails through the UW Preference Center.
SPRING 2021
March 30 | 3:30–4:50 PM PT
Impact of the COVID-19 Pandemic on Healthcare: Potential Roles for Probiotics
Lynne McFarland, PhD
UW Medicinal Chemistry
---
April 6 | 3:30–4:50 PM PT
​Laptop to Bedside: Computational Modeling for Policy and Decision Support
Eric Lofgren, MSPH, PhD
Washington State University, Paul G Allen School for Global Animal Health
---
April 13 | 3:30–4:50 PM PT
Uncovering the Hidden Curriculum of Grad School: A Panel Discussion
Epi EDI
UW Department of Epidemiology
---
April 20 | 3:30–4:50 PM PT
Modeling Maternal and Child Growth Trajectories Using Electronic Medical Record Data
Janne Boone-Heinonen, PhD, MPH
OHSU-PSU School of Public Health
---
April 27 | 3:30–4:50 PM PT
Nutritional Factors and Lung Cancer in Large-Scale Epidemiological Studies
​Yumie Takata, PhD
Oregon State University
---
May 4 | 3:30–4:50 PM PT
Dealing with Treatment-confounder Feedback and Sparse Follow-up in Longitudinal studies-Application of a Marginal Structural Model in a Multiple Sclerosis Cohort
Ehsan Karim, MSc, PhD
University of British Columbia
---
May 11 | 3:30–4:50 PM PT
Malaria Epidemiology in Western Mozambique: Implications for Effective Control
Kelly Searle, ScM, PhD
University of Minnesota
---
May 18 | 3:30–4:50 PM PT
Analytic Challenges in Nutritional Epidemiology: The Utility of Bayesian Methods
Patrick Bradshaw MS, PhD
University of California, Berkeley
---
May 25 | 3:30–4:50 PM PT
Student Presentations
Ashenafi Cherkos, MPH
Megan Suter, MS
UW Department of Epidemiology
---
June 1 | 3:30–4:50 PM PT
Studying the Association of Maternal Mental Health and the Built Environment Using Health Informatics
Yiye Zhang, MS, PhD
Weill Cornell Medicine, Cornell University
---
For questions, contact Faculty Seminar Coordinator: Daniel Enquobahrie (danenq@uw.edu)