Profile Photo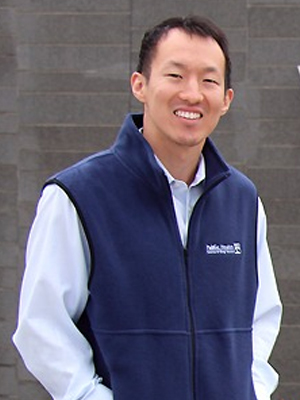 Phillip Hwang grew up wanting to make a difference. He long assumed he'd do so as a doctor.
His father had died of lung cancer when Hwang was 6, which set the stage for a lifelong interest in science and medicine. In the midst of med school, Hwang decided to also pursue a master's in public health. 
In that pursuit, he developed a passion for research that sparked a revelation: He would make a difference in the lab rather than at a bedside. 
"Ultimately I wanted to improve people's lives through better heath," said Hwang, a student in the University of Washington's School of Public Health. "Research isn't necessarily as direct or immediate as patient care, but as a researcher I can make a difference for as broad a population as possible."
Medicine and research of course go hand in hand, and countless students in the health sciences forgo the clinical world for the laboratory. But Hwang doesn't view his path as an either-or proposition. He is one of a dozen UW students who won grants that specifically support translational research, which aims to speed scientific discoveries to clinical settings. 
"It's really a two-way street between clinical care and research," Hwang said. "Hopefully my research benefits patients. But interacting with or even just observing patients still inspires me. So I won't stray too far from the patient setting."
"Clearly there needs to be a better understanding of the basic science of and treatments for Alzheimer's," Phillip Hwang said.
Hwang describes his road to research below:
Current research project:
A 15-year retrospective study of veterans with post-traumatic stress, examining the association between sleep medications and Alzheimer's disease.
Why veterans?  
Sleep is connected with PTSD. Some biology supports the idea that insomnia and sleep disturbance, more generally, disturbs the body's ability to clear out toxins or proteins that cause Alzheimer's. Through this research I want to start supporting the link between sleep and dementia.
Why Alzheimer's?  
I came to UW because of the association with Fred Hutch and all the great cancer research. That's what I thought I was going to do. Cancer was personal, because of my father.  But Alzheimer's is also personal for me. After my dad died, my grandfather came from Korea to be with our family. He helped raise me. He moved back to Korea, where he was diagnosed with dementia. Going back every few years and seeing the rapid decline in a once-strong man was shocking. So my personal interest ultimately shifted from cancer to Alzheimer's.
What do you hope to accomplish as a researcher?
There are limitations in medicine that need to be addressed. Right now, 99 percent of clinical trials in Alzheimer's show no results or fail. Clearly there needs to be a better understanding of the basic science of and treatments for Alzheimer's. As a researcher, I hope to help push the science a little further.
By Jake Siegel  |  HSNewsBeat
Photo: Jake Siegel