News & Events
Meet Epi's Student Lifecycle and Community Engagement Coordinator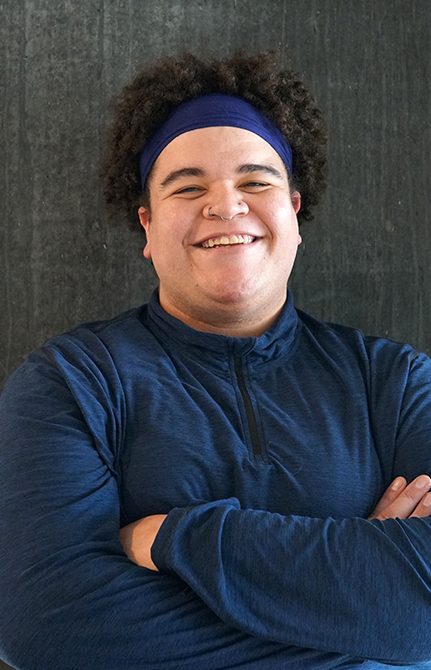 Jalen Smith is the University of Washington Department of Epidemiology's (UW Epi) newest addition to the Student Academic Services (Epi SAS) team. As student lifecycle and community engagement coordinator, Jalen is a resource for students throughout their time interacting with UW Epi. Their role in strengthening community engagement and partnerships helps provide continuity for students across Epi's graduate programs, support their student experience, and maintain connections with alumni.
Jalen also plays a critical role in helping the department to meet our equity, diversity, and inclusion (EDI) goals, outlined in our strategic plan. As part of this effort, Jalen will soon take over as staff co-chair for the Epi EDI Committee, also led by faculty and student co-chairs, to engage in projects that help build a culture of inclusion and equity within Epi. We asked Jalen to tell us about themselves and their new role.
Can you share a bit about your background?
I'm a born and raised southerner. I grew up in a small town in rural Arkansas (my public high school had a graduating class of 15!). I completed my undergraduate at the University of Arkansas (go Hogs!) and moved to Seattle for graduate school in 2016. I have a master's degree in Education from Seattle University and will be a part-time student in the Master of Social Work program here this fall at the UW. Supporting, aiding, and uplifting historically exploited and marginalized communities is central to everything I do, and has guided my educational, professional, and personal journeys my whole life, and I'm excited to continue my learning here at UW Epi!
What motivates you to work with students to promote EDI in Epi?
My work is informed by my many distinct identities and the hope that we can create a world where everyone is celebrated and liberated through their differences. I proudly identify as a Black, queer, transgender, and first-generation student and professional, and it's an exciting prospect to help remove barriers and be a light to other queer and first-gen scholars and colleagues who share similar lived experiences. I am also very aware that EDI is crucial in the world of public health and healthcare. As a trans person, I am compelled to support the learning and engagement of our future public health leaders to help ensure that our country's healthcare can be more accommodating and understanding to trans folks, or individuals from other marginalized backgrounds. Everyone deserves a safe and inclusive place to seek care and learn, and my hope is that promoting EDI in Epi plays a part in helping our UW community and the world.
What kind of educational or community experience do you hope students get in Epi and at the UW?
It's my hope that students get an educational experience that challenges them; but not just the rigor of the content, but hopefully students get a chance to explore their personal values and reflect on the ways in which they show up in the world and engage with the communities around them. In my point of view, reflection is just as important as understanding the technical complexities of epidemiology, so students should challenge themselves to learn about topics they have not yet been exposed to. Be curious! Make mistakes! Mistakes and errors are the cornerstone of learning and developing not just our educational expertise, but also the ways we can connect with one another. Community is essential, and nothing can be done alone or in isolation, so I hope Epi students know they are never alone in their journeys here!  
Any accomplishments or skills that you're proud of when it comes to your role?
I'm definitely most proud of the work that Epi Student and Academic Services (Epi SAS) is doing. We are a group of staff members in Epi that works on signature events, such as Visit Days, Orientation, and other larger events to support our students and broader UW Epi community. It's so amazing to work as part of a team that has so much wisdom and expertise about how to create a supportive community. I saw this firsthand when I went to my first Society of Epidemiological Research (SER) annual meeting in June 2023, and I was able to see all the hard work that our staff had done to create a great event for our students so that they were able to celebrate their academic achievements with alumni and their peers. Epi is committed to highlighting and providing opportunities like travel award funding or non-travel awards to offset the costs of poster printing, for example. I enjoyed being able to support in a small way by connecting students to these opportunities. And getting to see the students present their research at SER was so rewarding and amazing! Our students are brilliant!
What's your favorite thing about working at Epi?
My favorite thing about working at UW Epi is the connection with students, staff, and faculty. Everyone in our community – from the amazing facilities team that helps keep our eighth-floor space clean and tidy, to our students who spend countless hours writing theses – is available for connection. It's so easy to strike up a conversation, say hello, or send a quick message to go grab coffee. The community truly carries itself and allows for one another to connect in meaningful ways. As someone who loves to talk a lot, I love the chance to chat! The best way to find me is via email! jalens@uw.edu, or on Twitter @jalensuwepi.
What's one thing people might not know about your role?
Since my role is new, I'm still figuring out parts of it myself! One exciting new development is that my role will serve as the inaugural staff co-chair for the Epi EDI committee. Previously, the Epi EDI Committee was co-led by student and faculty co-chairs, but with the creation of my role I am looking forward to joining them in supporting and facilitating EDI initiatives within our department! In being the third chair, I'm excited to brainstorm ways we can continue highlighting the values of compassion and ongoing support for our community members.