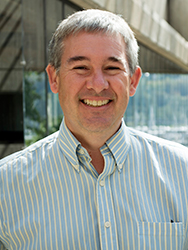 Chair, Epidemiology
Professor, Epidemiology
Adjunct Professor, Global Health
Adjunct Professor, Health Services

Education
PhD
Epidemiology, University of Washington, 2001
MS
Biostatistics, University of Washington, 1993
BA
Statistics, University of Rochester, 1985
Contact Info
University of Washington
Office : Health Sciences Building F-262D
Box 357236
Department of Epidemiology
1959 NE Pacific Street
Seattle, WA 98195
Tel: 206-685-0146
hawes@uw.edu
USPS Mailing Address
Department of Epidemiology
1959 NE Pacific Street, Box 357236
Seattle, WA 98195

Dr. Stephen Hawes has an MS in Biostatistics and a PhD in Epidemiology, both from the University of Washington. Dr. Hawes is Director of the UW Strategic Analysis, Research and Training (START) Center and has conducted recent research and training workshops in Namibia, Peru, and Vietnam. He maintains an agreement with the Washington State Department of Health to provide birth certificate, infant, and maternal hospitalization data to UW Epidemiology students and is a faculty member in the UW Center of Excellence in Maternal and Child Health (MCH) Program.
Links
Research Interests
Dr. Hawes's primary research interests are in human papillomavirus (HPV) and other STDs, cervical and anal cancer and precursor lesions, and HIV-1 and HIV-2, and he has more than 20 years of research experience conducting cohort studies in Senegal, West Africa as well as in Seattle. He also studies biomarkers for various cancers including cancer of the cervix, anus, lung, breast, ovary, and skin.
Teaching Interests
Dr. Hawes currently co-teaches a new undergraduate course EPI 360 "Exploring the HIV/AIDS Pandemic" offered during Winter Quarter and EPI 514 "Applications of Epidemiologic Methods" offered during Spring Quarter.
Publications
In The News
New Chair of Epidemiology Named
SPH News, 01/26/2018
Maternal Smoking May Harm Infant Immunity
Pediatric Infectious Disease Journal, 11/15/2013