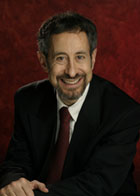 Associate Professor Emeritus, Epidemiology

Education
MD
Preventive Medicine, University of Colorado, 1978
MPH
Epidemiology, University of Washington, 1989
Dr. Goldbaum is Associate Professor Emeritus of Epidemiology at the University of Washington. Dr. Goldbaum earned his M.D. from the University of Colorado in Denver and his Master of Public Health degree from the University of Washington. Trained in both family medicine and preventive medicine, he has conducted research at the U.S. Centers for Disease Control and Prevention (CDC) in Atlanta, Georgia, at the Washington State Department of Social and Health Services in Olympia, and Public Health-Seattle & King County (PHSKC). He directed the HIV/AIDS Epidemiology Program, was the Chronic Disease & Injury Control Officer, and was the Medical Director for the HIV/AIDS Prevention Program at PHSKC from 1989 to 2007. He was an attending physician at Harborview Medical Center from 1989 to 2007 and directed the Preventive Medicine Residency at the University of Washington from 1992 to 2002. Dr. Goldbaum served as the Health Officer and Director of the Snohomish Health District from 2007 to 2017. He is most interested in applied epidemiology, especially translating epidemiological research into public policy. He enjoys backpacking, bicycling, skiing, and theater.
Projects
2004-2007 Assessing The Burden Of Latent Tuberculosis Infection Among The Homeless In Seattle (Co-PI), CDC-study to estimate the prevalence of latent TB infection (LTBI) among the homeless and to assess the utility of a new blood test for LTBI.
Research Interests
Dr. Goldbaum's research interests are in infectious diseases and behaviors that increase risk of injury or illness. He focuses on applied public health research.
Teaching Interests
Dr. Goldbaum is particularly interested in helping students appreciate the value of public health and giving them the skills to positively influence population health, no matter where they will work. He teaches Epi 511 with Wendy Barrington.
In The News
It takes a dedicated team to protect our public health
Herald Net, 03/04/2017
Why it's so hard to ignore your phone while you're driving
The Herald, 07/25/2015
Teen suicides reach 'stunning' peak in Snohomish County
The Seattle Times/AP, 06/25/2015