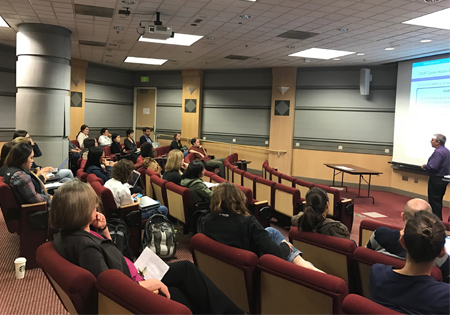 The Epi Seminar Series is a department-sponsored seminar series for students, staff, and faculty, as well as practicing professionals in the field. Speakers and topics are selected to highlight the diversity of research ongoing in the department. 
Spring quarter seminars will be held each week via Zoom through the following URL:
https://washington.zoom.us/j/408720744
This seminar is open to other academic departments and partners. Sign up for Epi Seminar emails through the UW Preference Center.
---
SPRING 2020
March 31
The impact of low-fat and full-fat dairy on glucose homeostasis
Mario Kratz, PhD
Fred Hutchinson Cancer Research Center
---
April  7
What is the current state of COVID-19 research at UW?
UW Epi Faculty
UW Department of Epidemiology
---
April 14
Racial disparities in offspring gestational age: The role of household wealth
Collette Ncube, DrPH, MPH, MS
Northeastern University, Bouvé College of Health Sciences
---
April 21
Title TBD
Kym Ahrens
Seattle Children's Hospital
---
April 28
Maternal Mortality: Measurement, data, and implications
Swee May Cripe, Maternal and Child Health Epidemiologist 
Victoria Lazariu, CHARS Epidemiologist
Washington State Department of Health
---
May 5
Epidemiological methods for studying fecundity: History, study designs, and time-to-pregnancy among Kenyan pregnancy planners
Erica Lokken, PhD, MS
UW Department of Global Health
---
May 12
Perinatal physical activity to improve maternal and child health: From epidemiology to interventions
Sylvia Badon, PhD
Kaiser Permanente Northern California Division of Research
---
May 19
Practical concerns in IRB Review for epidemiologists
Luke Wander, MD, MS, FACP
​UW Department of Medicine, Division of General Internal Medicine
---
May 26
Epi student  research presentations
UW Department of Epidemiology
---
June 2
Title TBD
Jennifer Weuve, MPH, ScD
Boston University, School of Public Health
---
For questions, contact Faculty Seminar Coordinator: Daniel Enquobahrie (danenq@uw.edu)