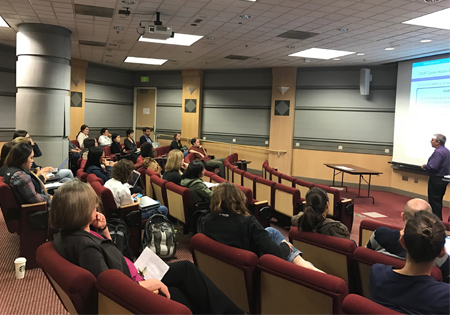 The Epi Seminar Series is a department-sponsored seminar series for students, staff, and faculty, as well as practicing professionals in the field. Speakers and topics are selected to highlight the diversity of research ongoing in the department. 
Seminars are held Tuesdays from 3:30-4:50 PM in Health Sciences K-069, unless otherwise noted.
This seminar is open to other academic departments and partners. Sign up for Epi Seminar emails through the UW Preference Center.
---
WINTER 2020
January  7
Towards mental well-being among women and children in South India​​
Deepa Rao, PhD, MA
UW Department of Global Health and Department of Psychiatry and Behavioral Sciences
---
January  14
Mapping the spread of influenza through a city: Insights from the Seattle Flu Study
Helen Chu, MD, MPH
UW Departments of Medicine, Epidemiology, and Global Health
---
January  21
Environmental surveillance for Poliovirus and S. Typhi
Scott Meschke, PhD
UW Department of Environmental & Occupational Health Sciences
---
January  28
The Dog Aging Project: How genes and environment shape healthy lifespan
Daniel Promislow, PhD
UW School of Medicine
---
February  4
Pharmacoepidemiology meets Rheumatology
Namrata Singh, MD, MSCI, FACP
UW Department of Medicine
---
February  11
What's war got to do with public health?
Amy Hagopian, PhD
UW School of Public Health
---
February  18
Title TBD
Lynn Messer
OHSU-PSU School of Public Health
---
February  25
The tipping point: A navigation of differential exposure and differential effects in the context of tipped-wage work
Sarah Andrea, PhD, MPH
​UW Department of Epidemiology
---
March  3
Understanding nature's impact on health: How can we determine whether the outdoor environment impacts symptoms in Veterans with PTSD and what do we know so far?
Alyson Littman, PhD, MPH
UW Department of Epidemiology, Seattle Epidemiologic Research Information Center, Seattle-Denver COIN for Veteran-Centered and Value-Driven Care
---
March  10
Developing & testing lifestyle interventions in cancer survivors
Heather Greenlee, ND, PhD
Fred Hutchinson Cancer Research Center
---
For questions, contact Faculty Seminar Coordinator: Daniel Enquobahrie (danenq@uw.edu)