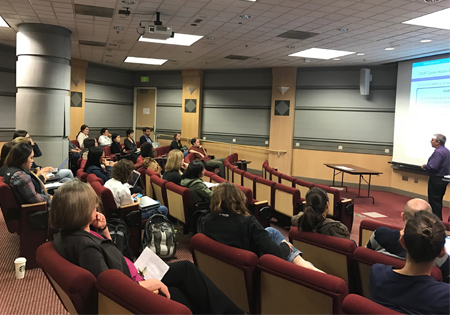 The Epi 583 Seminar Series is a department-sponsored seminar series for students, staff, and faculty, as well as practicing professionals in the field. Speakers and topics are selected to highlight the diversity of research ongoing in the department.
Seminars are held Tuesdays from 3:30-4:50 PM in Health Sciences T-739, unless otherwise noted.
AUTUMN 2018
October 2
Experiences in field epidemiology
Student Epidemic Action Leaders (SEAL) Team
UW School of Public Health
---
October 9
UW School of Public Health Town Hall Meeting in Turner Auditorium
Dean Hilary Godwin, PhD
UW School of Public Health
---
October 16
A gender transformative intervention with men to improve acceptance of family planning in Western Kenya
Shari Dworkin, PhD
School of Nursing and Health Studies, UW Bothell
---
October 23
Effect size in the design and interpretation of randomized trials: A (so-called) statistical reviewer's perspective 
Thomas Koepsell, MPH, MD
UW Departments of Epidemiology and Health Services
Supplemental References
---
October 30
Addressing environmental determinants of child health - In your backyard and in our nation
Catherine Karr, PhD, MD
UW Departments of Environmental and Occupational Health Sciences
---
November 6
Epi EXPO
Contact Amanda Phipps (aiphipps@uw.edu) for more details.
---
November 13
Moving towards elimination of mother-to-child HIV transmission (eMTCT)
Alison Drake, MPH, PhD
UW Departments of Global Health and Epidemiology
---
November 20
Evaluating medication safety to improve cancer outcomes: A big data approach
Lu Chen, PhD
Kaiser Permanente Washington Health Research Institute
---
November 27
Generational changes and vitamin D deficiency in Alaska native communities
Alison Fohner, PhD
UW Department of Epidemiology
---
December 4
Here's why One Health in aquatic ecosystems is important to humans
Stephanie Norman, DVM, MS, PhD
Marine-Med
---
For questions, contact Faculty Seminar Coordinator: Amanda Phipps (aiphipps@uw.edu)