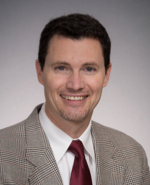 Professor, Medicine - Allergy and Infectious Dis.
Professor, Epidemiology
Professor, Global Health

Education
MD
Medicine, University of Washington, 1995
MPH
Epidemiology, University of Washington, 2001
BS
Biology, University of Washington, 1989
Contact Info
University of Washington
Box 359909
325 9th Avenue
Seattle, WA 98104
Tel: 206-543-4278
mcclell@uw.edu
Dr. McClelland is an Associate Professor of Epidemiology, Medicine, and Global Health. He is co-Director of the University of Washington's Center for AIDS Research (CFAR) International Core, and a member of the International AIDS Research and Training Program and the Kenya Research Program faculty. Dr. McClelland is Site Leader for the University of Washington (UW)/University of Nairobi (UON) Mombasa HIV/STD Research Site. This highly productive research field site includes strong collaborative research efforts between the UW, UON, the Kenya Medical Research Institute (KEMRI), Coast Provincial General Hospital, the Municipal Council of Mombasa, and the Kenya Ministry of Health.
Projects
Impact of peri-conceptual vaginal microbiota on the risk of spontaneous preterm birth


RCT of an IS approach to improve the rate of HIV testing in women presenting for family planning in Mombasa County, Kenya


Effect of antiretroviral therapy on infectivity and sexual risk behavior in Kenyan women


Prevalence, correlates, and clinical outcomes of HIV-1/HBV co-infected women receiving antiretroviral therapy


Polymorphisms in the CYP2B6 drug metabolizing enzymes, clinical outcomes, and adverse drug events in antiretroviral treated Kenyan women


Incidence and epidemiologic correlates of HIV-1 superinfection


Vaginal ecology and the risk of HIV-1 and STIs in women
Randomized trial of periodic presumptive treatment to reduce vaginal infections in women at risk for HIV-1 and STIs
Women's Lifecourse Events and HIV Transmission Potential: A Multidisciplinary Study
Links
Division of Infectious Diseases: http://depts.washington.edu/daid/directory/mcclelland.html
Department of Global Health: http://depts.washington.edu/deptgh/about_us/profile_scottmcclelland.php
Center for AIDS Research: http://depts.washington.edu/cfas/cfar/center/
Kenya Research Program:
https://sites.google.com/site/kenyaresearchgroup/collaborators-1/scott-mcclelland-md-mph-associate-professor
Mombasa Field Site: http://www.womenshealthprojectmsa.org/index.html
Research Interests
Dr. McClelland's research focuses on human immunodeficiency virus (HIV) and sexually transmitted infection (STI) epidemiology and prevention in most at-risk populations including female sex workers and men who have sex with men. This includes both primary prevention strategies for reducing the risk of HIV/STI acquisition and secondary prevention aimed at reducing infectiousness and risk behavior in people living with these conditions.

Dr. McClelland is the Protocol Chair for a Sexually Transmitted Infections Clinical Trials Group funded study entitled, "Preventing Vaginal Infections (PVI Trial)." This double-blind, randomized trial is evaluating the efficacy of monthly treatment with topical metronidazole and fluconazole co-formulated suppositories versus placebo for preventing vaginal infections in HIV-1-seronegative women. Vaginal infections have been associated with increased risk for HIV-1 acquisition, and may account for a high population attributable risk of HIV-1 infection. The PVI trial is ongoing, and includes sites in Mombasa and Nairobi, Kenya as well as Birmingham, Alabama.
Dr. McClelland is the study leader for an NIH/NICHD-funded P01 study that is part of a program-project grant entitled "Mechanisms and Cofactors for HIV-1 Transmission in Women."Dr. McClelland's project, entitled "Vaginal Flora and HIV-1 Acquisition in Women" involves a multi-site case-control study to compare vaginal bacterial flora using molecular methods in HIV-1 seroconverters compared to controls who remain HIV-1 seronegative. Participants include the high-risk cohort in Mombasa and a cohort of pregnant and post-partum women in Kisumu, Kenya.This study is ongoing.
Teaching Interests
Dr. McClelland teaches Epidemiology 532, "Epidemiology of Infectious Diseases in Resource-Limited Countries." The course is offered every other year (odd number years) in the Spring. He is a regular lecturer in med 561 (Tropical Medicine), EPI 507/OBGYN590 (HIV and STDs in Women and Children), EPI 530 (AIDS, A Multidisciplinary Approach), and GH573 (Clinical Management of HIV).

Publications
In The News
Uncovering the female body's secret protection against HIV
PBS NewsHour, 08/19/2016