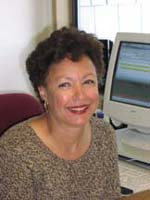 Affiliate Professor, Epidemiology

Head, Center for Observational Research, Amgen Inc.

Education
PhD
Epidemiology, University of Washington, 1993
Since 2004, Dr. Critchlow has focused on epidemiologic methods relevant to pharmacoepidemiology, conducting studies and developing observational research strategies in support of drug development and assessment of post-market drug effectiveness and safety. She currently heads the Center for Observational Research at Amgen, Inc.
Research Interests
Dr. Critchlow's research focuses on pharmacoepidemiology methods to assess the evolving benefit:risk profiles of medications used in clinical practice populations, including application of methods to control for confounding-by-indication in studies of treatment effects, post-marketing drug surveillance studies and longitudinal data analysis using large databases.
Publications
Hawes SE, Sow PS, Stern JE, Critchlow CW, Gottlieb GS, Kiviat NB. Lower levels of HIV-2 than HIV-1 in the female genital tract: correlates and longitudinal assessment of viral shedding. AIDS 2008;22:2517-2525.

Bradbury BD, Danese MD, Gleeson M, Critchlow CW. Effect of Epoetin alfa dose increases on hemoglobin and mortality in hemodialysis patients with hemoglobin levels persistently below 11 g/dL. Clin J Am Soc Nephrol 2009;4(3):630-637.

Bradbury BD, Do T, Wolfgang WC, Critchlow CW, Brookhart MA. Greater Epoetin alfa (EPO) doses and the risk of 90-day mortality among hemodialysis patients with hemoglobin levels below 11 g/dL. Pharmacoepidemiol Drug Saf 2009;18(10):932-40.

Bradbury BD, Brookhart MA, Winkelmayer WC, Critchlow CW, Joffe MM, Feldman HI, Acquavella JF, Wang O, Rothman KJ. Evolving statistical methods to facilitate evaluation of the causal association between ESA dose and mortality in non-experimental research: strengths and limitations. Am J Kidney Dis 2009;54(3):554-60.

Wang O, Kilpatrick RD, Critchlow CW, Ling X, Bradbury BD, Gilbertson DT, Collins AJ, Rothman KJ, Acquavella JF. Relationship between Epoetin alfa dose and mortality: Findings from a marginal structural model. Clin J Am Soc Nephrol 2010;5:182-188.

Pavlinac PB, Hawes SE, Gottlieb GS, Gaye A, N'Diaye CF, Critchlow CW, Sow PS, Feng Q, Kiviat NB. HIV-shedding in the oral cavity: an assessment of HIV type, immunovirologic, demographic and oral factors. Sex Transm Infect 2012;88:45-50.

Hernandez RK, Do TP, Critchlow CW, Dent RE, Jick SS. Patient-Related Risk Factors for Fracture Healing Complications in the United Kingdom General Practice Research Database. Acta Orthopaedica 2012;83:653-660.

Boudreau DM, Yu O, Spangler L, Do T, Fujii M, Ott S, Critchlow C, Scholes D. Accuracy of ICD-9 codes to identify nonunion and malunion and developing algorithms to improve case-finding of nonunion and malunion. Bone 2013;52:596-601.

Xue F, Ma H, Stehman-Breen C, Haller C, Katz L, Wagman RB, and Critchlow CW for the Denosumab Global Safety Assessment Team. Design and methods of a postmarketing pharmacoepidemiology study assessing long-term safety of denosumab (Prolia®) for the treatment of postmenopausal osteoporosis. Pharmacoepidemiol Drug Saf 2013;10:1107-1114.

Lauffenburger JC, Balasubramanian A, Farley JF, Critchlow C, O'Malley C, Roth MT, Pate V, Brookhart MA. Are low-cost generic prescriptions faithfully captured in US pharmacy claims databases? Pharmacoepidemiol Drug Saf 2013;22(8):899-906.

Gammelager H, Svaeke C, Norholt SE, Neumann-Jensen B, Xue F, Critchlow C, Bergdahl, J, Lagerros YT, Kieler H, Tell GS, Ehrenstein V. Validity of an algorithm to identify osteonecrosis of the jaw in women with postmenopausal osteoporosis in the Danish National Registry of Patients. Clin Epidemiol 2013;5:263-267.

Balasubramanian A, Brookhart A, Goli V, Critchlow CW. Discontinuation and re-initiation patterns of osteoporosis treatment among commercially-insured post-menopausal women. Int J Gen Med 2013;6:839-848.

Reams BD, O'Malley CD, Critchlow CW, Lauffenburger JC, Brookhart MA. Changing Patterns of Use of Osteoporosis Medications In the Years After Launch: Implications for Comparative Effectiveness Research. Pharmacoepidemiol Drug Saf 2014;23(3):251-260.