News & Events
Epi faculty and student nominated for UW teaching award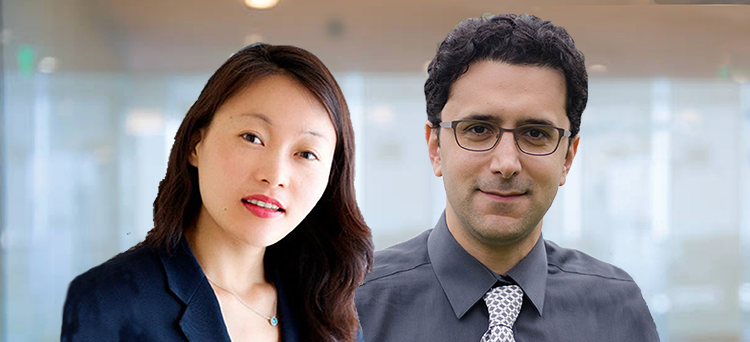 Two members of the Department of Epidemiology (Epi) have been nominated for the university-wide Distinguished Teaching Award: Ali Rowhani-Rahbar, the Bartley Dobb Professor for Study and Prevention of Violence, and Mary Fan, a professor of law at the University of Washington (UW) and a doctoral student in the Epi department.
Each year, the UW's Center for Teaching and Learning honors faculty and graduate student instructors for their excellence in subject matter, in teaching students both in and out of the classroom, and in their innovative spirit for the teaching process and curriculum design. Award recipients receive a $5,000 award.
Rowhani-Rahbar is an associate professor of epidemiology. He has been a member of the department's core faculty since 2012 where he has co-taught the core epidemiology methods courses, EPI 512 and 513. Rowhani-Rahbar sees himself as a learning facilitator. Within and outside the classroom, he strives to spark students' enthusiasm for the subject matter, sharpen their critical thinking skills, and help them see the real-world relevance of their gained knowledge.
"I believe that my interactions with my colleagues, including co-instructors, and students have meaningfully contributed to my own professional growth and made me a more effective teacher and researcher, and more importantly, a better person," Rowhani-Rahbar said. "I am immensely grateful [for this nomination]. Being a teacher is an integral part of my identity. I cannot be more thrilled to be recognized for it."
Fan, a core faculty member at the Harborview Injury Prevention and Research Center with Rowhani-Rahbar and a doctoral student studying epidemiological criminology in the department, was nominated for the teaching award through the UW School of Law, where she has been working since 2010. She loves seeing how her teaching helps to cultivate the passion, creativity and open-mindedness of her students to tackle critical issues around civil liberties and justice. Fan's goal is for her students to see how they can have an impact, regardless of their career paths. Learning from faculty in Epi, like Rowhani-Rahbar, has had a positive impact on Fan's teaching in the law school.
"I decided to become a student in the Department of Epidemiology because the amazing, life-saving work of the professors there make me want to be a better teacher, mentor and researcher," Fan said. "Rowhani-Rahbar exemplifies the best of our department, university, and what professors have to offer the world. I am immensely grateful just to be in the company of the stellar teachers, mentors and scholars who I have long admired, and who I have cheered from the audience section at the awards ceremony."
The Distinguished Teaching Award has been a UW tradition since 1970. Previous faculty members with appointments in Epi who have been honored with this award include Bonnie Worthington-Roberts in 1986, Thomas Koepsell in 1990, and Stephen Gloyd in 2000.
Rowhani-Rahbar is among five UW School of Public Health faculty members nominated for the Distinguished Teaching Award. The nominees will have until mid-January to submit supporting materials for their nomination. The winners of the award will be announced during the spring 2019 quarter.