News & Events
Caislin Firth named 2018 Horowitz Fellow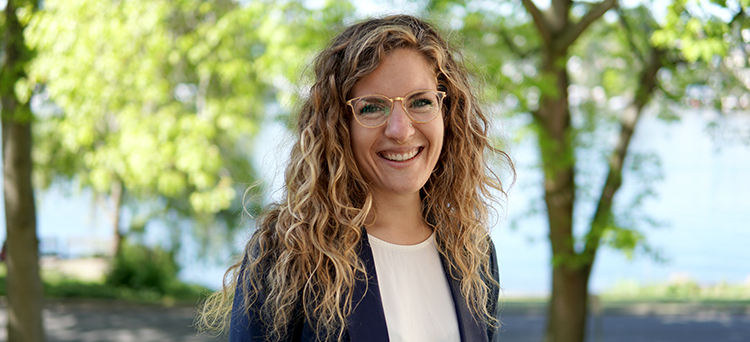 The Horowitz Foundation for Social Policy has named Caislin Firth, a third-year doctoral student in the Department of Epidemiology, a 2018 Horowitz Fellow. Caislin is one of 25 fellows selected to receive grants of at least $7,500 to support research on contemporary issues that has an impact on social policy.
Caislin will use the funds to complete her doctoral dissertation this spring, which focuses on the impacts of cannabis legalization on neighborhoods, underage use, and juvenile justice outcomes in Oregon.
"I'm interested in assessing the unexpected consequences of cannabis legalization on youth and how the built environment influences those consequences," said Caislin. "Cannabis legalization has created a rapidly growing commercial cannabis industry which may make it easier for youth to illegally access and use cannabis products. However, criminal laws around youth marijuana crimes have not changed, and this may inadvertently lead to more youth arrests for marijuana-related crimes. I'm looking at how adult legalization of cannabis has impacted juvenile arrests across the state of Oregon and how legalization may have impacted racial and ethnic disparities within juvenile arrests."
Caislin's interest in exploring the impacts of cannabis use began at the Multnomah County Health Department in 2014 just as Oregon passed a new law legalizing the recreational use of cannabis for adults. As Caislin monitored population-level trends in cannabis use, she began to wonder how this new law might impact different populations and how the emergence of cannabis retailers and storefront advertisement in certain areas can influence adult and underage cannabis use.
"It is really exciting to see Caislin's work contribute to the national dialogue on important issues like marijuana legalization," said assistant professor Anjum Hajat who mentored and served as chair of Caislin's dissertation committee. "Her work has real policy and public health implications and I hope policymakers in states considering legalization will use the results of her studies to inform decisions about things like the distance between marijuana retailers and schools."
In June, Caislin will start a 12-week summer fellowship program at the RAND Corporation in Santa Monica to work with Eric Pedersen and Rosalie Pacula on projects related to the impacts of cannabis product sales in Colorado on the opioid epidemic, potentially reducing harm to people with chronic pain and opioid addiction. Following this experience, Caislin will begin her postdoctoral fellowship at Simon Fraser University in Vancouver, British Columbia, with Meghan Winters as a part of the INTERACT team, a research group studying how to design cities to improve health and reduce inequities.
"Much of the work that I've done has direct policy implications," Caislin said. "I see myself continuing to work in the realm of building evidence-based policies and understanding the impacts that policies have on our social and built environments and their influence on health inequities."
The Horowitz Foundation for Social Policy and the fellowship award were established in 1997. Since then, three other University of Washington students have received this fellowship. Caislin is the first student in the School of Public Health and the Department of Epidemiology to be named a Horowitz Fellow.