News & Events
2021 SPH Excellence Awards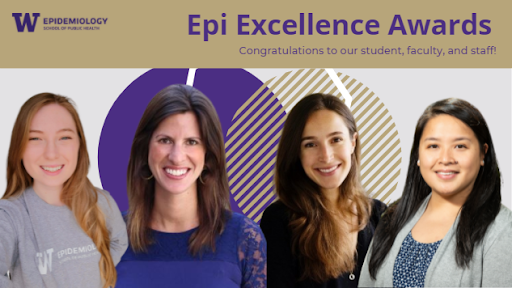 Four exceptional students, faculty, and staff from the University of Washington Department of Epidemiology (Epi) were honored at the 2021 University of Washington School of Public Health (SPH) Awards of Excellence. The SPH Awards recognize exemplary staff, faculty and students for their dedication, service and many contributions to the school.
The following individuals were nominated for their stellar contributions to the field of public health and to the University of Washington:
Sarah Yarborough, Epi Master's student, received the SPH Outstanding Master's Student Award.
Claire Watt Rothschild, PhD student, received the SPH Outstanding PhD Student Award.
Christine Khosropour, Epi Assistant Professor, received the SPH Distinguished Faculty Member for Teaching Award.
Merilee Teylan, Epi Research & Consulting Manager at the National Alzheimer's Coordinating Center (NACC), received the SPH Outstanding Staff Award.
"Congratulations to the Epi students, faculty and staff, who were honored at the 2021 School of Public Health Excellence Awards," Epi Professor and Chair, Dr. Stephen Hawes said. "I am so pleased to see such exemplary and dedicated leaders receive recognition for all that they do to promote public health within our community and beyond. I look forward to seeing all that they will continue to accomplish."