News
AUTUMN 2017
Epi alumnus wins 2017 Noreen Harris Award
Richard Burt, alumnus from the Department of Epidemiology at the University of Washington School of Public Health (MS '86 and PhD '92), has been selected for the Noreen Harris Award for Excellence in Public Health Epidemiology for his work in HIV and hepatitis C risk and prevention among local at-risk populations.
WINTER 2017
ASPPH welcomes new ASPPH/CDC Fellows
Cheryl Dietrich (MPH '16 Epi), former research assistant for the Strategic Analysis, Research & Training Center, was named an ASPPH/CDC Allan Rosenfield Global Health Fellow. She will be working with the CDC to reduce the burden of HIV and tuberculosis in Pretoria, South Africa.
CATCH study aims to treat HIV-infected children before symptoms appear
Anjuli Wagner (PhD '15) is a member of the HIV Counseling and Testing for Children at Home (CATCH) study. The study tries to "catch" children who may be infected with HIV but are still asymptomatic and tries to treat them.
UN's Natalia Kanem will be the 2017 SPH Graduation Speaker
Natalia Kanem (MPH '90), assistant secretary-general of the United Nations and deputy executive director of the UN Population Fund, will speak at the UW School of Public Health's graduation celebration on June 11.
Women Took Path Through UW to Lead Nations' Efforts on Health
Patricia Garcia (MPH '98) is among featured speakers at a symposium on campus Feb. 8: "Global Health: Next Decade, Next Generation." The daylong event marks the 10th anniversary of the UW Department of Global Health, as well as the anniversaries of seven other Seattle-based global health organizations.
AUTUMN 2016
Epi Alumna Named Assistant Secretary-General and Deputy Executive Director of the United Nations Population Fund
University of Washington School of Public Health alumna Natalia Kanem (MPH 1990, Epidemiology) of Panama, was named Assistant Secretary-General and Deputy Executive Director (Programme) of the United Nations Population Fund (UNFPA). She was appointed by United Nations Secretary-General Ban Ki-moon and succeeds Kate Gilmore of Australia.
SUMMER 2016
Washington Graduate Named Peru's Health Minister
University of Washington School of Public Health alumna Dr. Patricia García (MPH 1998, Epidemiology), an affiliate professor in the School's department of global health and dean of the School of Public Health at Cayetano Heredia University, was named Minister of Health for Peru. She was appointed by newly elected President Pedro Pablo Kuczynski and was expected be sworn in on July 28.
Olshan Elected President of North America's Oldest Epidemiology Society
Andrew Olshan, PhD, associate director of Population Sciences and co-leader of the epidemiology program at UNC Lineberger Comprehensive Cancer Center, has been elected president of the Society for Epidemiologic Research, the oldest and largest general epidemiology society in North America. He currently is serving as president-elect and will become president of the organization in July 2017.
Epi Graduate's Nifty Cup Among the Most Impressive Social Good Innovations
Mashable sites the Nifty Cup, a feeding cup that could help high-risk babies in developing countries who have trouble breast-feeding, as one of 11 important innovations that made important strides in May for social good. One of the inventors, Christy McKinney, is an alum from the Department of Epidemiology. 
We love to hear your updates
Please send your news to sgurrey@uw.edu
Events
---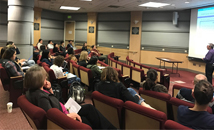 Epi Seminar Series
The Epi 583 Seminar Series is a department-sponsored seminar series for students, staff, and faculty, as well as practicing professionals in the field. Speakers and topics are selected to highlight the diversity of research ongoing in the department.
See the full schedule