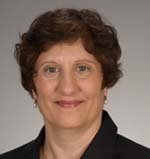 Affiliate Assistant Professor, Epidemiology


President of HealthStat Consulting, Inc.
Education
PhD
Epidemiology, University of Washington, 1995
MS
Epidemiology, University of Washington, 1985
Dr. Malmgren's main research focus is on breast cancer. She has been conducting registry based studies for the last 14 years that include leukemia incidence post breast cancer treatment, triple negative disease, and characteristics of mammography detected breast cancer. Her expertise is in survival analysis and risk modeling. In addition she conducts validation analysis using SEER data. Her research has expanded to include studies of leukemia incidence post breast cancer diagnosis using SEER/Medicare data. She is also involved in the personalized medicine initiative at Swedish Cancer Institute using next generation sequencing.

Outside of breast cancer and clinical oncology research, she is involved in health care quality improvement studies including surgical comparative effectiveness studies and randomized clinical trial set up and analysis.


Research Interests
Dr. Malmgren's research interests include clinical oncology, physician initiated research, clinical quality improvement studies, clinical outcomes research, randomized clinical drug trials and comparative effectiveness studies. Topics recently studied include treatment associated with breast cancer detection methods, leukemia post radiation treatment for primary breast cancer and comparative effectiveness of surgical techniques. She has acted as consultant to various organizations, institutions and physician practices including Swedish Cancer Institute. Dr. Malmgren uses epidemiologic study design and biostatistical analysis methods to study health services and health care delivery problems, and in the design and implementation of health care programs in a variety of settings. Where applicable she has used risk modeling statistical procedures for outcomes research and to identify possible explanatory factors. Dr. Malmgren has been President of HealthStat Consulting, Inc. since 1997.



In The News
Mammograms beneficial in women 75 and up
Seatle Times, 08/05/2014
Mammograms Benefit Women 75 and Older
Radiology, 08/05/2014
Mammograms can save lives of women in their 40s: study
MSN.com, 02/22/2012