News & Events
UW student COVID-19 response team receives public health excellence award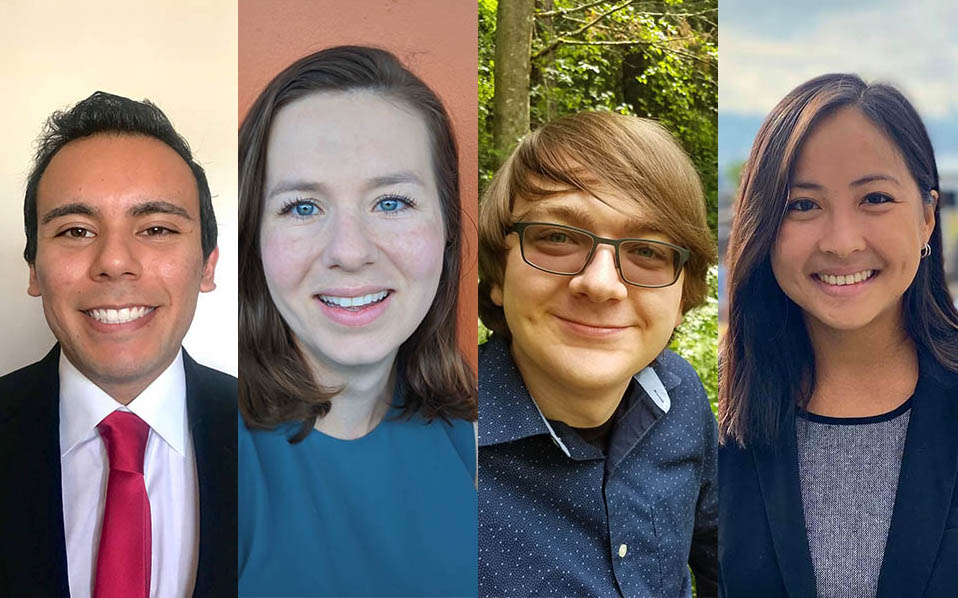 A team of University of Washington School of Public Health students received the Exceptional Student Award from the Washington State Public Health Association (WSPHA) for their work supporting the COVID-19 outbreak response in North Central Washington.
The award recipients are Bruce Bello (MPH-Epidemiology), Kathleen Moloney (MPH-Global Health), Jeff Taylor-Kantz (MPH-Epidemiology), and Ashley Tseng (PhD-Epidemiology). All four students are part of the UW Department of Epidemiology's Student Epidemic Action Leaders (SEAL) Team, which provides students with experience in applied epidemiology through methods training and field assignments at state and local health departments.
The annual Exceptional Student Award honors students in public health or a related field who have shown leadership and commitment to public health in the areas of advocacy, research, academia, and/or community involvement. In the summer of 2021, the four SEAL team members relocated to Wenatchee to assist the Chelan-Douglas Health District with COVID-19 projects and needs across the district and region, including exploring vaccine hesitancy, understanding the mental health impacts of the pandemic, analyzing data, creating communication materials, and assisting with pop-up vaccine clinics and contact tracing.
Dr. Janet Baseman, SEAL Team director and UW professor of epidemiology, said this SEAL Team assignment was unique not only for its impact during these unprecedented times, but for the students' dedication to supporting public health in the local Wenatchee community.
"These four students demonstrated an amazing level of commitment to public health in Washington State through their willingness to upend their lives and relocate to Wenatchee," wrote Baseman in her nomination letter. "This is the first time SEAL students from the University of Washington have physically deployed to an area outside of Western Washington to assist local public health, but it is hopefully not the last."