News & Events
Putting the puzzle pieces together to improve Latino health: Francisco Rios Casas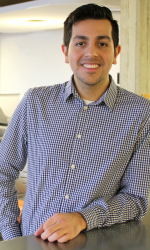 Francisco Rios Casas grew up in the Los Angeles sprawl in an area known as Santa Ana. As he spent more time exploring different parts of the metropolis during high school, and later at the University of Southern California (USC), Francisco became more aware of the impact the built environment can have on physical and mental health, especially in low-income Latino communities like the one he grew up in.
Throughout his life, Francisco has been collecting the puzzle pieces that have led him to pursue a Master's of Science (MS) in Epidemiology at the University of Washington (UW). Now in his first year of his program, Francisco is finally putting them together.
Francisco is a first-generation college and graduate student. Earlier this year, he was awarded the UW School of Public Health Master's Fellowship. He currently works as a research assistant for the Latino Center for Health, which is the first research center in the state of Washington to focus solely on issues of Latino health.We caught up with Francisco to hear about his journey and how it has led him to pursue a research career dedicated to improving the health of Latino communities.
What led you to becoming more aware of the impact of the environment on health? How did that awareness impact you?
I was always interested in the environment and how that impacts organisms, which is why I decided to study human biology in my undergrad. And then, because of where I lived in Los Angeles (LA), I became more aware of the actual, built environment. I noticed that it was common for poorer neighborhoods to be closer to freeways and places where you're more exposed to emissions from oil extractions.
At the same time, I became more exposed to efforts of advocacy groups on USC's campus and surrounding neighborhood, including a coalition of LA organizations that linked housing issues with environmental health and highlighted local government policies that could help improve the community's health. This is how I became aware of the demographic shifts in University's surrounding neighborhoods, and more generally, in South LA. These historically Black neighborhoods have become the home of newly-arrived immigrants, and more recently, they have become the site of gentrification. Interestingly, these neighborhoods also had less access to hospitals and clinics, which made me curious to understand how that impacted health.
I spent a summer working as a community organizing intern with one of these organizations, called Clergy & Laity United for Economic Justice (CLUE-LA). I focused on building connections between faith leaders and low-wage workers who were trying to enact a living wage ordinance in LA. I learned about the higher rates of disease in Latino, immigrant, and low-income communities in LA, and how that was disproportionate compared to other areas. This hit close to home since I had grown up in a similar community in Santa Ana, and my mom had immigrated here from Mexico. I became passionate about finding ways to help these communities.
Can you remember the moment when you realized you were interested in population health and epidemiology?
I spoke about what I learned through my exposure to these organizations to an urban geography professor who taught in the Department of American Studies and Ethnicity. He told me that there was a big need for scientists to examine how environmental exposures impact the health of communities and to use these findings to improve policies that can, in turn, help improve the overall health in communities. He suggested I look up the work of some public health researchers. At that point, I realized I needed other tools besides my biology skills, but I didn't know what epidemiology was at the time.
My first exposure to the field of epidemiology was in my third year of undergrad. I started working at a lab with an epidemiology professor who worked on understanding differences in cancer among Latino populations in California. The lab sought to explain why certain rates of different cancers were higher or lower in Latinos. In that project, I learned about social, environmental, and genetic risk factors. I worked there until I graduated.
There were a few years between your graduation and coming here for your Master's degree. What did you do during this time?
After graduation, I worked as a research associate at the Children's Institute, Inc. for 3 years. My main role was to understand the demand for mental health services for children in Latino, immigrant, and working class communities and to help bring those resources to them and their families.
Through my work there, I learned about common issues in childhood traumas, exposures and stressors in the environment, and how they affect childhood development and mental health outcomes. I worked closely with psychologists, social workers, and educators to address common issues like depression and anxiety in school children and their parents.
It was rewarding to see a recognized value in and the benefits of receiving mental health services in those communities. People were so grateful. It made me think of my own experiences growing up in Santa Ana, a predominantly Latino community. I don't remember any of my friends or family talking about the importance of mental health or receiving mental health services, even though I think we all would have benefited from it.
Why did you decide to study epidemiology at the UW?
I didn't see many people applying population health methods at Children's Institute, Inc. It just wasn't the nature of the work there. I knew I wanted to study population health, and I knew that epidemiology would teach me the skills to do that. I decided to get my MS in epidemiology and focus on understanding mental health at the community and population level; more specifically, how we can better understand social stressors and the prevention of mental illness.
The UW Department of Epidemiology had several faculty members whose research interests overlapped with mine. This was very important for me in making my decision. Since coming here, I've realized I could also approach my interests through the lens of trauma and its outcomes. Having these different options to think about my research question and goals has opened my eyes to the potential impact of my work.
What made you so interested in studying mental health?
Mental health issues have been prevalent in my family for several generations, from my grandmother to my mother and her sisters. My mom immigrated to California from Mexico a few years before I was born. She struggled a lot, not knowing anybody and barely speaking English. In choosing to raise me [in the U.S.], she had less social and family support compared to what she would've had in her hometown. It was almost isolating. This stress—combined with her past experiences and her current environment—affected her mental health. I think that, in turn, had an impact on the way my siblings and I grew up.
Looking back now, I understand what she was going through, and it's actually very common for people in her situation. That's how I became interested in the way our stressors and the environment interact to impact health and how one generation's stress and trauma can be passed down to impact the next generation's development and relationships with others.
You're nearly done with your first year of your program, and you've recently started working at the Latino Center for Health as a research assistant. From the sounds of it, this falls right in line with your passion for improving health in Latino communities. Tell us a bit about the work you do there, what you've learned so far, and how it ties in with your goals?
Currently, I'm helping with setting up a study with Latina immigrants in Seattle. The study is called the Amigas Latinas Motivando el Alma Project (ALMA) and is led by India Ornelas, an associate professor in health services and the Research Director for the Center for Latino Health. My work includes performing literature reviews, preparing measures and some of the study materials, like data collection surveys, assisting with some early participant recruitment and site set-up.
So far, I've learned that the Seattle Latino immigrant community recognizes the importance of mental health for their overall well-being. Similar to what I saw in LA, there's a need for mental health services, but there may also be a lot of stigma about getting help, in addition to other barriers to accessing these services. I am really excited to be involved with community-based research in mental and behavioral health and to see the efforts to address important health issues in immigrant and Latino communities in Seattle.
I think this experience has confirmed to me that I should follow my passion and my goal to work in cross-disciplinary research that can improve mental health outcomes in Latino communities. As a result, I have decided to apply to be a doctoral student. I'm excited to keep working in this field and pursue my interests in social epidemiology, stress and mental health, and intervention research.