News & Events
Mental Health Matters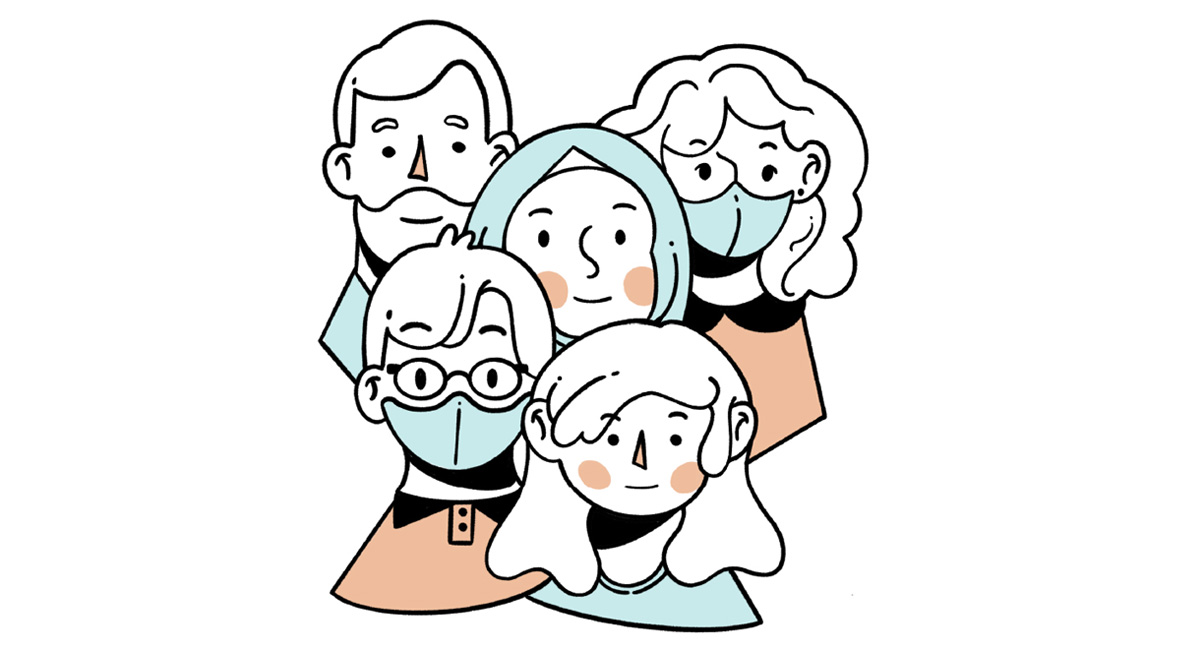 Illustration of people by Lea Hidaka
Together, we can heal from the trauma of COVID-19
Since the pandemic, many professors in the University of Washington School of Public Health have shifted to starting class with a check-in.
Sometimes professors ask students what color best matches their emotions. Other times, they ask what brings students energy, or they begin class with a few minutes of calm breathing. While the professors are not trained mental health therapists, they are finding ways to support their students' well-being.
Now that we've transitioned to living with COVID-19, what comes next for our mental health? More people reported struggling with anxiety, stress, and other adverse mental health outcomes during the pandemic compared to before it. Multiple studies have found that often individuals from marginalized backgrounds are experiencing the worst outcomes and because of staffing shortages, mental health workers are unable to serve a spike in demand.
The researchers and practitioners say we are also resilient, and that in the face of stress and trauma, most people can adapt. Practitioners even discovered innovations in how they delivered mental health that could address inequities in access.
That's why, as we recover from the pandemic, researchers and practitioners say we need to take a community-based approach to mental health. In other words, to help all of us heal our mental health, we all need to collectively practice well-being.
"COVID-19 is having observable effects on mental health, there's no doubt about that," said Michele Bedard-Gilligan, a psychologist at UW Medicine and an adjunct associate professor in global health. "People are incredibly resilient and adaptable. We can cope even when things feel intolerable. Most of us can do that, but there's going to be some of us who are more vulnerable and for whom it's more challenging."
Community-based mental health support can happen anywhere: schools, businesses, sports teams, places of worship or book clubs, said Jen Nguyen. Nguyen is a mental health counselor at the UW Counseling Center and a liaison to several schools in the Health Sciences (including the School of Public Health), who provides consultation to faculty and holds mental health workshops for students.
Integrating community-based care can look like checkins with students at the beginning of class, a once-a-week guided meditation in the office, or even encouragement that employees use their vacation time, she said. Creating a culture where it's okay to talk about mental health can combat stigma and embolden us to support the well-being of ourselves and each other.
"You don't necessarily need to see a mental health professional to help with what's going on, but you need someone to listen and relate to you," Nguyen said.
IMPACT OF INEQUITIES IN MENTAL HEALTH
While we all experienced the same pandemic, we did not all experience it the same way — especially when it came to our mental health.
"It's been devastating on people's wellness," said Deepa Rao, clinical psychologist and vice dean at the School. "We've all experienced varying degrees of trauma, some milder, others more severe.
Population groups with existing health disparities were more likely to experience the worst of this trauma.
Arjee Restar, an assistant professor of epidemiology, studied how the pandemic impacted trans communities' mental well-being. Looking at 76 countries, Restar and fellow researchers found an increased prevalence of depressive symptoms, anxiety and suicidal ideation since the pandemic began. This may have been due to a lack of access to gender-affirming care and socioeconomic loss, according to findings published in PLoS ONE and the British Medical Journal Global Health.
"The COVID-19 pandemic has immensely widened disparities in negative mental health outcomes and inequities in access to gender-affirming care among trans communities all around the world," Restar said.
The impact on children and young adults has also been troubling. The American Academy of Pediatrics and two other major medical organizations have declared a national state of emergency in children's mental health, citing rising numbers of emergency department visits for mental health crises.
In addition, adults with severe mental illness saw worse symptoms related to isolation and anxiety, said Dr. Lydia A. Chwastiak, who works in psychiatry at UW Medicine and as an adjunct professor in global health. Some of her patients had relied on resources like food assistance agencies and human services departments, which closed at the beginning of the pandemic, leaving many without help.
Public health workers were also affected. More than half of the public health workforce reported at least one symptom of post-traumatic stress disorder as a result of the COVID-19 pandemic, from data collected in partnership with the Northwest Center for Public Health Practice.
"It's not going to be easy. It's going to take a lot of flexibility and grace with ourselves and each other."
HOPE FOR OUR MENTAL WELL-BEING
Yet the pandemic also forced us to rethink how mental health care is delivered, leading to surprising innovations that could improve access long term.
When the pandemic began, Associate Professor India Ornelas transitioned her program Amigas Latinas Motivando el Alma, or ALMA, online. ALMA is a community-based approach to addressing mental health disparities for Latina immigrants, disparities which were also exacerbated by the pandemic.
The women met on Zoom over six weeks and learned strategies for coping with stress: using practices that came naturally, practicing yoga, mindfulness, or breathing techniques, and building community within their group.
Ornelas found the program was just as impactful on the women's mental health as when it was delivered in person. This indicates an opportunity to expand the program to Latinas in rural areas.
"During the pandemic, we are becoming more aware of how important mental health is," Ornelas said. "We need public health solutions to mental health that are not just health care solutions."
Traditional counseling sessions also transformed. Telehealth services for mental health, which hadn't been popular before the pandemic, became widely used at UW Medicine, Bedard-Gilligan and Chwastiak said.
Therapists could reach patients in rural areas. Patients didn't have to fight traffic and pay for parking. Bedard-Gilligan was able to assist patients struggling with something in their home environments to confront problems in real time, rather than assigning homework.
"That's where some of the creativity has come in. The way we deliver mental health care will stay with us," Chwastiak said. "We've uncovered innovative strategies to expand reach and access to services." People also began finding mental health support shared online, such as meditation apps and yoga videos. Bedard-Gilligan recalled a friend who mentioned how helpful a podcast was that reminded her that "thoughts are not facts."
"I thought, wow, that's a therapy technique I do with my clients and you got that from a one-hour podcast," Bedard-Gilligan said. As the pandemic seemed to cause more divisions and disagreements, perhaps there's one thing that may unite us going forward: mental health does matter.
"If you don't have good mental health and wellbeing, it's hard for you to contribute to society," Ornelas said. "We know it impacts people's everyday lives, their productivity at work, their parenting, their physical health. During the pandemic we are becoming more aware of how important mental health is."
Encouraging communities to support mental health, helping people engage in self-care, training more mental health care workers, providing equitable access, addressing mental health stigma, and giving ourselves time to heal are "going to take everything we've got," Rao said. "It's not going to be easy. It's going to take a lot of flexibility and grace with ourselves and each other."

---
Resources to support your mental health
UW services:
Washington state resources:
National sites for locating treatment:
More national resources: