News & Events
Laura East to lead Department's communications program
Laura East will be joining the Department of Epidemiology as the new communications manager, where she will spearhead the Department's communications program.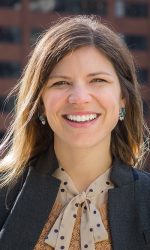 Laura has worked in global health communications, advocacy, and project management for the past eight years. Most recently, Laura has been serving as a client experience manager within Weber Shandwick's Health & Social Impact practice, leading teams and creative content strategies for clients such as the Bill & Melinda Gates Foundation, Michael & Susan Dell Foundation, and the Washington Chapter of the Center of American Islamic Relations (CAIR-WA). Previously, Laura worked at PATH as a communications associate, where she helped share the stories of key global health programs, such as the Woman's Condom and Caya Diaphragm reproductive health technologies.
Laura completed her undergraduate degree at the Western Washington University. She is currently pursuing a Master's of Science degree in Human Centered Design and Engineering at the University of Washington.
Laura loves traveling and has spent time living, working, and exploring countries spanning across five continents. Recently Laura has enjoyed more travel within the United States, driving cross-country twice in last five years and even one trip through the Midwest visiting each of the homesteads of her namesake, Laura Ingalls Wilder. Laura also recently completed a 200-hour yoga teacher training.