News & Events
Honoring Epi Department staff and students at the 2019 School of Public Health Excellence Awards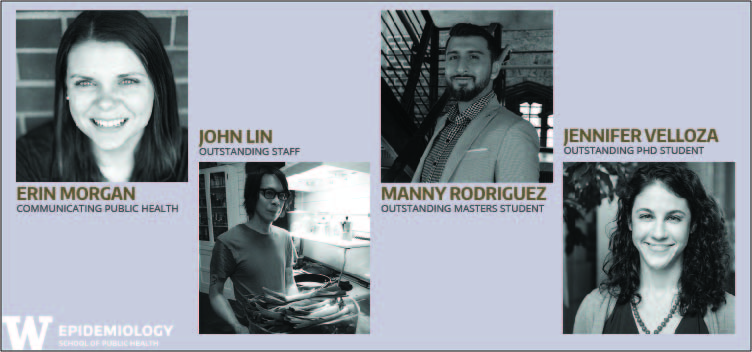 On Wednesday, May 15, four outstanding students and staff from the Department of Epidemiology will be recognized during the 2019 School of Public Health (SPH) Excellence Awards. The following individuals were nominated for their dedication and service to the University of Washington and the field of public health.
​Communicating Public Health to the Public – Erin Morgan
Erin Morgan is a second-year PhD student with the Department of Epidemiology. Over the last two years Erin has published the results of four studies on the risks of firearm ownership, each receiving significant media coverage. Erin has taken the time to help shape communications strategies and respond to media requests. As a result, Erin was interviewed on camera for a local television news segment for her initial article on safe storage of firearms. Her study was later cited in the Mayor of Seattle's LOCK-IT-UP gun-safety policy initiative. Erin's efforts to disseminate her work help showcase the exceptional talent of our student body and the UW's contributions to cutting-edge, evidence-based research.
Outstanding Staff – John Lin
John Lin is a research coordinator with the Department of Epidemiology and the HPV Research Group. John brings exceptional service to overseeing all aspects of clinical research, ensuring smooth day-to-day operations, and managing study data with efficiency and high attention to detail. Recently, John led data management activities for a clinical trial of home-based HPV screening, which included more than 20,000 participants. For the past ten years, John has delivered a lecture on data management for students in EPI 510 and supported students' ongoing questions on the subject. John's hard work, dedication, and resourcefulness help make the department's high quality research possible.
Outstanding Master's Student – Emmanuel Rodriguez
Emmanuel 'Manny' Rodriguez will be graduating this spring with his Masters of Public Health from the Department of Epidemiology. Throughout his career, Manny has demonstrated a commitment to reducing health disparities, particularly in communities of color and the LGBTQ community. Manny has contributed to the success of several key projects across the School of Public Health, including serving as an outreach specialist for clinical trials conducted through the HIV Vaccine Trials Network, and working with Public Health Seattle-King County to deliver on-site HIV testing in response to a local HIV outbreak. These projects, as well as Manny's thesis, which aims to better understand HIV-related stigma among Latinx men who have sex with men, help inform implementation of targeted, culturally-appropriate interventions.
Outstanding PhD student – Jennifer Velloza
Jennifer Velloza is a fourth year PhD candidate with an impressive research portfolio, including more than 20 publications, dedicated to the integration of HIV prevention and mental health programming for young women in sub-Saharan Africa. Jennifer's contributions to this body of research were included in a World Health Organization report, after she was engaged to conduct a systematic review of HIV-prevention programs for adolescents and young adults. The depth of her understanding of HIV prevention for young women and women's mental health in Kenya and South Africa has prepared her to be an international leader in the field.