News & Events
Grep Calip ('13) Offers Career Advice for Aspiring Epidemiologists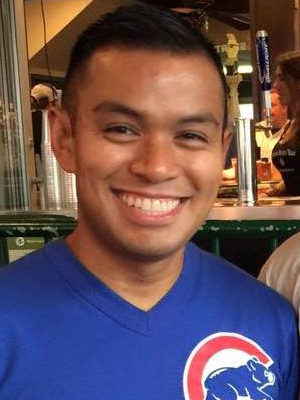 Hometown
Chicago, IL
Program
Epidemiology, PhD
Grad Year
2014
Research Interest
Pharmacoepidemiology and cancer epidemiology
What was it that inspired you to pursue a career in epidemiology?
My first "exposure" to epidemiology was during pharmacy school. As a PharmD, many of my clinical interests were in hematology/oncology and an understanding of basic epidemiologic research methods was requisite to that field. I also worked as a community pharmacist in New York City, and translating clinical evidence on medication safety to public health practice was important to me. Ultimately, the opportunities to contribute to research in cancer prevention and health outcomes motivated me to come to UW and study epidemiology.
Where do you live now, and how did you end up settling there?
Currently, I live in my hometown – Chicago. My family is mostly located here in the Midwest and back east. So, when I had the opportunity to return as an Assistant Professor to my alma mater for pharmacy, the University of Illinois at Chicago (UIC), I was thrilled to be coming home. I still miss living and working in Seattle. Fortunately, I continue to collaborate with former mentors at UW, Group Health and Fred Hutch.
What does "a day in the life" look like for you?
A given "day in the life" of an Assistant Professor is so varied, and there are many opportunities and challenges that come with being an epidemiologist in academia. My main appointment is in the Center for Pharmacoepidemiology and Pharmacoeconomic Research at the UIC College of Pharmacy. My current teaching responsibilities primarily involve mentoring and working with graduate (MS/PhD) students in our program and in the UIC School of Public Health. I also lecture in a PharmD student course that provides an introduction to clinical epidemiology and biostatistics. Beyond that, what I enjoy the most about working in academia is the independence you're given as a scientific investigator. Surely, the pressure feels like it's on to apply for grants, publish papers, build research collaborations, and ultimately to become tenured (whew!). Truly, in a given day there is a lot of writing to be completed and a LOT of meetings to attend. However, I love the work that I am doing because after all of those years of graduate school I feel like I am setting my own agenda and asking my own research questions. I get to share my passion for cancer prevention and pharmacoepidemiology with my new colleagues and students, present my research at conferences and work with other folks interested in what's new and next in our field.
It's also interesting to be a faculty member in an institution where you trained because former professors are now colleagues. At times it can feel like you never left. If anything, it makes for good conversation over drinks at your Department holiday party.
Few fields of study are more dynamic than public health. How did you find your place?
Whether you're coming to public health as an undergraduate major or finding epidemiology after years of working in another field the way I did, this humble but noble calling of public health needs you. It's important to have faith in yourself and enjoy what you're studying and working on. Stick with what you believe in and you'll find the right place for yourself in this wide and expanding field.
In my limited experience thus far, I believe the type of person who tends to thrive in this academic public health environment is focused, comfortable with trying something new, likes to write (cannot be emphasized enough; you must like writing!), and enjoys being surrounded by some really smart people.
What advice do you have for students interested in a career in epidemiology?
The career opportunities for epidemiologists are so wide ranging across many health professions, academic disciplines and policy-setting organizations. When I asked different mentors at UW how their careers had developed, no single path was the same and most sounded like they had two or three careers in their life leading up to that point. I would tell students pursuing a career in public health and epidemiology to keep an open mind to different types of opportunities in academia, the non-profit sector, entrepreneurship and industry – locally and globally. Most importantly, seek out mentors in graduate school who will help you fully realize your strengths and passions. Keep your eyes open for your future collaborators and co-investigators; you'll be in good company at UW.