News & Events
Four Epi faculty, students and staff recognized at SPH Excellence Awards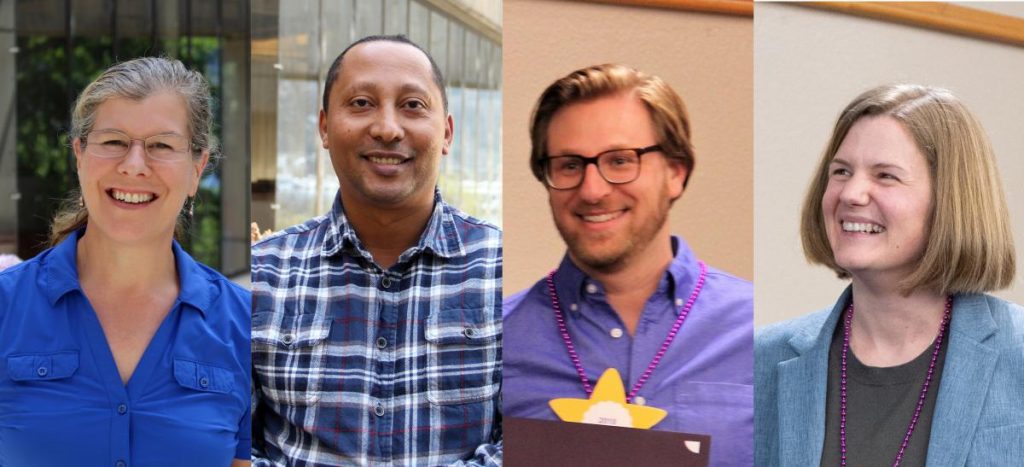 Four University of Washington Department of Epidemiology (Epi) students, faculty and staff were honored at the 2018 University of Washington School of Public Health (SPH) Awards of Excellence. The SPH Awards recognize exemplary staff, faculty and students for their dedication, service and many contributions to the school.
"Congratulations to the Epi students, faculty and staff, who were honored at the 2018 School of Public Health Excellence Awards," Epi Associate Professor and Chair Stephen Hawes said. "I am so pleased to see such exemplary and dedicated leaders receive recognition for all that they do to promote public health within our community and beyond. I look forward to seeing all that they will continue to accomplish."
Grants and contracts manager Barb McLaughlin received the SPH Outstanding Staff Award.
As the Grants and Contracts Manager, McLaughlin routinely acts as a conduit for collaboration and innovation. Thanks in part to her efforts, the Epi department has made progress toward building a stronger relationship with the UW's Office of Sponsored Programs. This will help improve the faculty experience and research environment. McLaughlin also helped to create a valuable new resource for faculty members, called Faculty Dashboards, which provide an overview of their grant and financial situation.
Associate Professor Daniel Enquobahrie received the SPH Outstanding Faculty Member for Mentoring Award.
Dr. Enquobahrie challenges, supports and respects his mentees. He empowers them to explore new opportunities and think critically about their research, while supporting their individual goals. As director of the Center of Excellence in Maternal and Child Health, Dr. Enquobahrie understands the importance of financial support for graduate students, actively seeking funding for his mentees and working with them to submit grant applications. His mentees look forward to their weekly meetings, where Dr. Enquobahrie not only asks about their research and career development, but also their fun weekend plans. His exceptional mentorship has helped students develop the knowledge, leadership and problem-solving skills necessary for success in their field.
Master's student Robert Tessler received the SPH Outstanding Master's Student Award.
Tessler has taken his passion for the study of violence and social justice and translated it into valuable public health contributions. As a fellow at Harborview Medical Center, he led a project that highlighted the uniqueness of terrorist attacks in the U.S. with respect to the use of firearms compared to other weapons, which received national media attention. His thesis demonstrates for the first time how individuals of color are at greater risk for racially motivated bias violence victimization compared to white victims. He's also documented an inverse association between state beer tax and firearm homicide among adolescents and young adults. Tessler strives for scientific rigor and public health relevance, and demonstrates unending commitment to vulnerable communities.
Ph.D. student Jessica Williams-Nguyen received the SPH Outstanding Ph.D. Student Award.
Williams-Nguyen's thesis project is looking at the association between HCV infections, myocardial infarctions and the underlying genetic links in a large cohort of people living with HIV. She identified this topic on her own, developed her own network of advisers, engaged partner institutions independently, and focused on finding the most appropriate methods. Williams-Nguyen also has a passion for improving the climate and culture in the School of Public Health. She is an outstanding young scholar well positioned to make impressive contributions to public health.
Congratulations to all SPH Excellence Award awardees!