News & Events
Epi welcomes new HR associate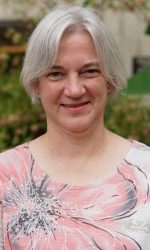 As the new HR Associate to the University of Washington (UW) Department of Epidemiology (Epi) and Department of Health Services, Donna Timbrook will provide support and coordinate numerous Workday functions.
Timbrook is not new to the UW. For the last 12 years, she worked as the budget and fiscal analyst for the College of Engineering. In this role, she was system specialist for several digital records, including leave and payroll coordination.
In her new position for the department, Timbrook will work on payroll and Workday entries and updates. For Timbrook, the new position brings more opportunities to learn.
"[What I enjoy most about my work] is the friendly people I work with," Timbrook said. "It is also a great opportunity to learn."
Outside of work, Timbrook is a member of a handbell choir, a skill she had been working on since she was 12-years-old. She also enjoys activities in small groups including coloring and, recently, yoga.