News & Events
Epi SEAL Team partners with Zimbabwe community leaders to improve disease outcomes
When the worst Ebola outbreak began its terrible trek along the western coast of Africa, public health professionals – and nations – were left scrambling. Although not the first, the 2014 Ebola outbreak raged for over two years, killing nearly 12,000 people. Its opaque origins and the ferocity by which it spread only exacerbated public fear.
Not quite two years later, public health professionals are still piecing together the disease's violent history – one that emerged from the jungle and traversed borders through human hosts. To combat new and future outbreaks, public health researchers and practitioners rely on disease surveillance. Like geologists mapping earthquake risk, epidemiologists use surveillance of past disease outbreaks to help anticipate and improve response to future epidemics.
The history of tuberculosis (TB), as a devastating disease world-wide, illustrates the critical need for improving the ability to track and respond to disease outbreaks. Evidence of TB infection dates back 6,000 years, speckled onto the bones of ancient Incans and encapsulated in the tombs of Egyptian mummies. However, during the past 70 years, medical science has advanced treatment options for TB, making it entirely curable. Even with these advancements, TB still remains one of the top 10 causes of death worldwide, killing 1.7 million people in 2016.
Facts such as these are difficult to rationalize. As epidemiologists delve deeply into the geographic and demographic distribution of cases of disease, a theme emerges – 95 percent of deaths occur in resource-poor nations. Diseases like malaria and dengue also ravage regions where cases are endemic. In these areas, disease surveillance and outbreak response infrastructure is often lacking. Through surveillance and dispatch of field epidemiologists to these areas, public health practitioners can improve disease outcomes.
For the University of Washington Department of Epidemiology (Epi), engaging students early on in this field training builds future leaders in disease detection and outbreak response. In Fall 2015, the department launched its Student Academic Action Leaders (SEAL) Team to provide students with on-the-ground experiences in field epidemiology. In 2017 the SEAL Team program expanded to include an international partnership with the Zimbabwe Field Epidemiology Training Program (Zim FETP). The first group of SEAL students traveled to Zimbabwe this past summer to evaluate surveillance and outbreak response systems for malaria, an endemic disease in parts of Zimbabwe, in an effort to better understand rural district surveillance and outbreak response practices.
"With this initial project, we have begun to understand the interconnected networks of communication and information systems that support rural malaria surveillance and outbreak response activities in Zimbabwe and better understand why routine surveillance and outbreak response activities are often insufficient to producing a timely and effective response to endemic threats in Zimbabwe," Epi Associate Professor and SEAL Team founder and director Janet Baseman said.
For the two Epi graduate students, Audrey Brezak and Audrey Hu, who traveled to Zimbabwe for the training, their experience allowed them to make critical connections between disease surveillance systems and health outcomes.
"You would go to clinics and you would just see lines and lines of people waiting to be treated," Brezak said. "[Village health workers] are only supposed to work three days a week. They get paid $12 every three months or something for their three days of work. However, they become known as someone in the community with test kits and medicine, and they are approached every single day of the week. People are knocking on the doors of their homes throughout the night. They don't really have the resources to do the job that they want to do because they are only being paid three days a week. But then they're really the community point person and are dealing with this huge, huge case load. For so many people, this is really their first point of care."
Hu echoes that healthcare delivery and access is a huge problem for those needing care, noting that because of the low staff numbers, many go without care. "[Treatment] is difficult to get," Hu said. For many, they have to travel several miles to a treatment facility that is understaffed.
"It is common for complex information and communication systems – like disease surveillance and response systems – to not function optimally," Baseman said. "The better we understand the public health system structure and challenges, the more likely we are to be able to propose meaningful improvements to these systems."
As a part of their recommendations, Brezak and Hu urged the Zimbabwe Ministry of Health's National Malaria Control Program to focus on streamlining the surveillance system for tracking disease occurrences and resolve inconsistencies in data. A part of their recommendation is phone reporting. However, to mitigate issues in areas with limited infrastructure to support reliable phone connections, Brezak and Hu are focusing on increased staffing or dedicated staff members for electronic reporting.
As a part of the Zim FETP collaboration, students from both the UW and University of Zimbabwe traveled abroad to explore new opportunities for international collaboration and new ideas for innovations that could improve surveillance and response system functioning. Field epidemiology trainees from the University of Zimbabwe traveled to Seattle to work with the UW and the Washington State Department of Health (DOH) to evaluate the reporting system for TB in the state.
The two, second-year MPH students, Drs. Christine Magadza Gabaza and Reginald Mhene, have spent six weeks working with the DOH to investigate how the Washington Disease Reporting System (WDRS) reports and tracks TB cases.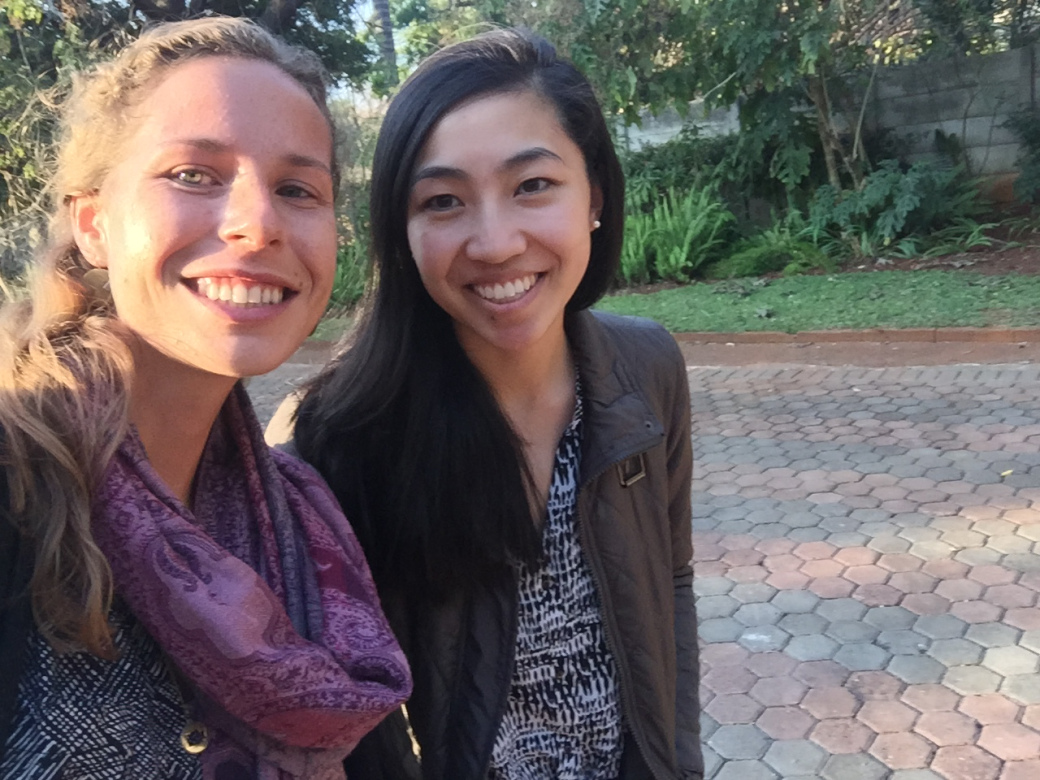 There are nearly 10,000 cases of TB reported in the U.S. each year, with 204 of those cases coming from Washington State. Although it is vastly less prevalent in the U.S. compared to other parts of the world, TB in the U.S. still comes with treatment challenges. According to Gabaza and Mhene, its infrequency is a large part of the reporting problem. Because doctors do not initially suspect it, patients may be misdiagnosed or receive late treatment. These delays often result in lags in reporting the cases in WDRS.
As a part of their investigation, Gabaza and Mhene offered a number of recommendations, including capturing all available demographic patient data in WDRS. For the Zim FETP trainees, their experience in Seattle presented great comparisons between how healthcare systems operate in the two countries. Like Brezak and Hu's visit to Zimbabwe, Gabaza and Mhene's evaluation findings provide further insight into how public health systems play a critical role in disease occurrence and outbreak containment.
"The collaboration enables students from different countries to appreciate how public health problems are different, and how different public health systems are in the countries," Gabaza said. "This widens the perspectives of students when it comes to understanding public health. The [field programs] give students a chance to apply what they learn in class to the real situations so that they can acquire skills in designing, managing and evaluating public health programs."
Although diseases like Ebola, tuberculosis and malaria are caused by different pathogens and affect the human body in different ways, each of these troubling diseases has devastating impacts on individuals and communities. To better control these diseases, one needs to understand their causes and how disease detection and response systems function in the places where illnesses occur. Programs like Epi's SEAL Team and Zim FETP offer trainees a direct view into how outbreaks are managed. Through this outlook, these future public health researchers and practitioners can gain better insights into how to improve outbreak surveillance and response in the future.
"We are a globally-connected people," Baseman said. "Working in siloes in public health is not conducive to system-level innovation. Organizations like the SEAL Team, in collaboration with global partners like Zim FETP, can accelerate progress on improving population health around the globe."