News & Events
EPI faculty awarded Royalty Research Fund to study stress, health in low-income families
Assistant professor of epidemiology Anjum Hajat and colleagues at the University of Washington Daniel J. Evans School of Public Policy and Government have been awarded $39,000 from the selective Royalty Research Fund (RRF). The award will help Hajat and her co-investigators set up a pilot study to gather initial data that will explore the relationships between household finances and health.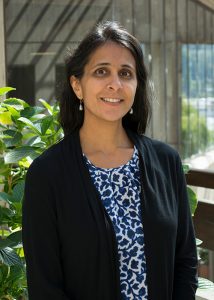 More specifically, the pilot study will explore whether a financial coach provided by the employer at the worksite helps low-income households improve economic well-being, reduce stress and improve health outcomes. Previous efforts to provide financial coaches to low income workers have suffered from low participation rates. Putting the coach in the worksite reduces barriers to coaching and may ultimately be more effective. The data from the pilot study will support the team's application for a National Institutes of Health grant that will allow them to expand the study to several worksites.
"I think this intervention, providing financial coaching to low-wage workers, might actually help workers with their finances in the long run," Hajat said. "And it might be something that employers are willing to provide as an added benefit. On a personal level, the project is exciting because I have never done an intervention based study before, so this is a whole new area of research [for me]."
If the interventions prove successful in reducing stress and improving health, Hajat says this will provide support for an intervention that can be implemented on a broad scale to help low-wage workers. Most importantly, the findings from the study could potentially provide direct evidence of the negative health consequences of financial instability.
"Understanding the mechanism that results in disproportionately poor health in low-income households will help us hone in on how to solve the problem," Hajat said.
The RRF uses the royalty and licensing fee income from the University of Washington's technology transfer program to help faculty explore new directions in their research that will help them be more competitive for subsequent funding. The fund was established in 1992 and has offered funding opportunities twice a year ever since. About 25 percent of proposals successfully receive funding in each round.
Associate Professor Crystal Hall and Professor Marieka Klawitter from the Evans School are co-investigators for this study.