News & Events
Dr. Ali Rowhani-Rahbar Honored with UW Distinguished Teaching Award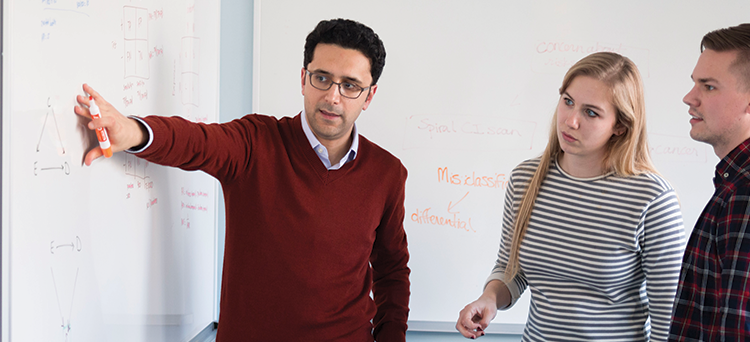 The Department of Epidemiology is proud to share that the University of Washington (UW) Center for Teaching and Learning has named Dr. Ali Rowhani-Rahbar as the 2020-21 UW Distinguished Teaching Award recipient.
Rowhani-Rahbar is an associate professor in the Department of Epidemiology, the Bartley Dobb Professor for Study and Prevention of Violence, the Violence Prevention Section Lead at the Harborview Injury Prevention & Research Center (HIPRC), and co-director of HIPRC's Firearm Injury Policy & Research Program.
Since becoming a UW faculty member in 2012, Dr. Rowhani-Rahbar has been continually recognized for his outstanding contributions to teaching and mentorship, through five previous nominations for the Distinguished Teaching Award, and recommendation for the Landolt Distinguished Mentor Award in 2015. Additionally, in 2016, he received the Outstanding Faculty Teaching Award from the School of Public Health.
"I am immensely grateful for this award," said Dr. Rowhani-Rahbar. "Being a teacher is an integral part of my identity. I cannot be more thrilled to be recognized for it."
As a co-instructor for the Department of Epidemiology's core methodology course series alongside Drs. Amanda Phipps and Noel Weiss, Dr. Rowhani-Rahbar trains the next generation of epidemiologists, clinicians, and public health experts to think critically and to see the real-world relevance and impact of their epidemiological expertise.
"Dr. Rowhani-Rahbar is a gifted instructor, one who has the talent of translating his deep knowledge of epidemiology into material that both engages and edifies his students," said Dr. Noel Weiss, a UW professor of epidemiology for 47 years. "Our department has seen exciting expansions in the heterogeneity of our student body, both in terms of their backgrounds and interests. Dr. Rowhani-Rahbar has the remarkable ability to make the material interesting and understandable to all of them."
Teaching in a large lecture hall with nearly 200 students can be intimidating for the presenter and lackluster for students. Not in Rowhani-Rahbar's classroom, where a full room fuels his passion for teaching the topic of the day, enrapturing his students for two hours.
"I find it especially impressive that Dr. Rowhani-Rahbar manages to learn each student's name," said Allen Roberts, a teaching assistant for this year's EPI 512-513 class. "As a student, you feel that he is personally invested in your education, a rare experience in large, lecture-based courses. Dr. Rowhani-Rahbar never loses sight of the big picture, and students leave class with both a nuanced understanding and visceral appreciation of public health research."
Dr. Rowhani-Rahbar's investment in his students, even beyond the classroom as a mentor, advisor, and supervisor, reflects his philosophy that you never stop learning from those around you.
"Reflecting back on the past eight years since I joined UW, I feel inspired by having worked with over 1,000 students, trainees, and colleagues through classroom teaching, guest lecturing, and mentoring," Rowhani-Rahbar said. "I have benefited from learning along with them. These interactions have contributed to my professional growth and made me a more effective teacher and a better person."
Each year, the UW's Center for Teaching and Learning honors faculty and graduate student instructors for their excellence in subject matter, in teaching students both in and out of the classroom and for their innovative spirit for the pedagogical process and curriculum design.
The Distinguished Teaching Award has been a UW tradition since 1970. Previous faculty members with appointments in the Department of Epidemiology who have been honored with this award include Bonnie Worthington-Roberts in 1986, Thomas Koepsell in 1990, and Stephen Gloyd in 2000.