News & Events
Angie Marie Buck Reflects on 20 years in Epi Department
Over the last 20 years, Angie Marie Buck has seen a lot of change in the Department of Epidemiology. As the department's Academic Human Resources (HR) and the Executive Assistant to the Chair since 1999, Angie has worked with five department chairs, seen students graduate and faculty go through the career progression from assistant to full professors.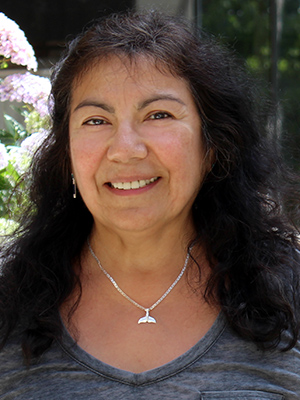 Last month, Angie announced her retirement to the department, effective October 31. We caught up with Angie to reflect on her career and her time in the Department of Epidemiology, and to dream with her about her retirement projects.
While you spent a large chunk of your career in Epi and at the UW, you haven't always been working in Academic HR. What were you doing before you started working in Epi?
After moving to Seattle in 1983, I got my first job at the University of Washington in the Financial Aid Office in Schmitz Hall. I was the assistant to the assistant registrar, and then I became the administrator in the International Services Office. After a few years at the UW, I decided I wanted to go back to school to be a veterinary technician. I did my externship at the Issaquah Zoo, now known as the Cougar Mountain Zoo, and at the Woodland Park Zoo. Following that, I worked as a surgical veterinary technician at a couple of animal clinics – my favorite was Carkeek Park Veterinary Hospital. I just loved working with animals and helping sick ones heal.
Why did you end up leaving this career and how did you land in the Epi Department?
I had wanted to be a vet since the age of five, but life took me down a different path. The career path for a vet tech can get stagnant unless you go back to school to become a veterinarian. This meant going back to school a third time and taking out loans. At the time, I had just gotten married and I couldn't see myself doing this; then the opportunity to return to the UW fell on my lap. Working for the UW School of Public Health and the Epi Department was appealing to me because of their mission and reputation. The field of public health touches on so many aspects of health in our everyday life outside of the doctor's office. Here, I had the opportunity to work for a department that trained people to be looking out for others; to prevent people from getting sick or injured in the first place. Of course, I wanted to work there!
What were things like in the Epi Department when you first started? How have you seen things change over the years? In terms of your role and the department or student body as a whole?
I was hired by Emily White, the acting chair of the department at the time and the first woman in this role. I was not only the assistant to the chair and academic HR, but also responsible for managing the website, classroom logistics, and scheduling for our curriculum. Over the years, we were able to hire IT staff and to have a dedicated person working on the curriculum and course planning. Jim Gale followed Emily as acting chair and was soon followed by Scott Davis, who served as chair for 15 years. I had so much fun working with him. He cared so much about the faculty, students, and staff — he just cared about the whole department! When Scott retired, Victoria Holt stepped in as chair of the department. She was a role model for me. I saw how a woman could be strong, unafraid to say what is on her mind, and be able to stand her ground without losing her cool.
Victoria stepped down in 2017, and then I worked with Stephen Schwartz while the school searched for a new chair. Over the years, I've seen our staff grow and faculty climb the ladder to becoming full professors. I have seen the creation of an undergraduate program in public health. Some of those undergraduate students worked in our office as student assistants, and over the years a handful of them have decided to pursue a graduate degree in Epi. Now under Stephen Hawes' leadership, I can see even more changes in the department. There has been a need for hiring more diverse faculty and recruiting diverse students; our research areas have diversified more over the years. I am excited about the future of this department.
Can you share a favorite memory from your time in the department? What will you miss the most?
There are so many good memories, but I can share a few favorite things from my time here. First, I loved meeting with faculty and seeing their determination and enthusiasm for their research. It has been so rewarding to see faculty grow into their careers toward full professorship and to have a role in helping them get there. In a similar vein, it has been so wonderful to bond with students and to see them grow as they go through the program, and for some, to see them return as faculty. I loved seeing that spark in their eyes for their work.
Last, I found it exciting to see the launch of the Equity, Diversity, and Inclusion (EDI) Committee under Victoria's leadership and to see it continue with Jen Balkus as the co-chair. Serving as a member of this committee opened my eyes to what EDI meant in an academic setting and how it could have an impact on the student experience.
I will definitely not miss the paperwork, but I will miss the daily encounters I have with people in the department. I'll miss working with like-minded people. Everyone I work with, faculty, staff, and students, are all so wonderful.
What are you looking forward to the most for your retirement? Do you have any plans?
I am looking forward to waking up and having the option to decide what I want to do with my day. I get to choose! I am planning to do a lot of reading, some art, and to practice the violin. I want to learn to bake bread and cook more. I also plan to do some extensive traveling before settling down in Arizona. My husband doesn't retire for another couple of months, but when he does we plan to do a Mediterranean cruise. My dream is to spend a quarter of the year in the South of France. Perhaps we'll return to London and Scotland to explore some more. I'd also like to go to Costa Rica and Ireland.
When we finally get settled in our new home, I'd like to adopt a cat, a dog, and visit the Arizona Tortoise rescue group and bring one or two home with me. I will likely return to my roots and volunteer at an animal shelter and educate people on selecting and caring for their pets.