News & Events
Alumna Emily Mosites is hot on the trail of infectious disease in the Arctic
Emily Mosites is a disease detective. That's what the CDC calls its team of Epidemic Intelligence Service (EIS) officers. When an outbreak hits, EIS officers deploy to the front lines and wage war. They have identified Legionnaires', Zika, and Ebola, stopped outbreaks of diphtheria, and traced cases from E. coli to polio. In the midst of a public health crisis, they spend dizzying, 18-hour days trying to crack the case, identifying causes of mysterious outbreaks and implementing measures to protect the public.
The job is grueling, and she loves it.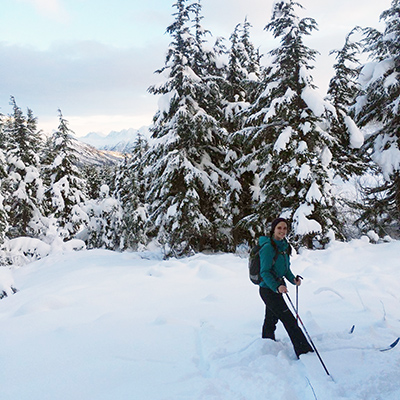 Mosites' career path was inspired more than 10 years ago by the book The Hot Zone, a chilling account of the deadly Ebola virus for which there is no known cure. A globetrotting adventurer at heart, she set her sights on emerging health threats and how to fight them. After earning her Ph.D. in Epidemiology from the University of Washington's School of Public Health in 2015, she was accepted to the EIS. Assigned to a post in the Arctic Investigations Program based in Anchorage Alaska, she's hot on the trail of infectious diseases of the arctic and determined to help protect the public's health.
"I've always been attracted to the discovery component of epidemiology," she says. "It's gratifying to uncover something that no one else has seen before."
In her role as an EIS officer, she is always searching for patterns in the development and spread of a disease. Within a few months of arriving at her post, a new strain of group A Streptococcus was identified in Fairbanks and a few months later caused an outbreak in Anchorage. The Anchorage cases have been primarily in the population experiencing homelessness.
The bacteria can cause a wide range of infections, including necrotizing fasciitis, a fast-spreading skin infection that invades the body's soft tissue. This is the first time this particular strain of group A strep has been identified in Alaska.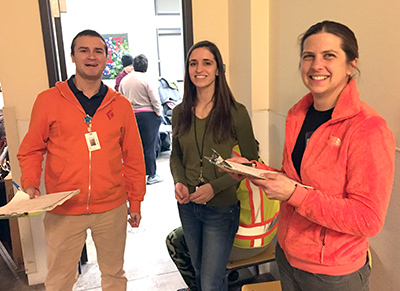 "When I noticed that the numbers of cases had shot up considerably in late October and early November, it turned on an outbreak response switch," she says. "There was a lot of on-the-ground work to be done."
In coordination with Alaska's state health department, Mosites spearheaded one of the most challenging aspects of disease detection: tracking down cases of people exposed and possibly infected. This task, called "contact tracing," is key to finding new cases promptly so they can be treated to stop further spread.
"We knew this was a really serious disease and we needed to do something right away to stop it," she says.
Her team visited the homeless shelter to offer to test and administer antibiotics if necessary. They distributed fact sheets about the bacteria, worked with healthcare providers from local hospitals to increase clinic hours at the shelter, spoke with reporters to get information to the public, and worked with hospitals to promptly identify more serious illnesses.
It can be very stressful in the throes of full-blown outbreak response, but sleuthing and outsmarting disease is where she believes she's meant to be.
"The intensity can be stressful," she admits, "but it feels so important and so satisfying to be doing this work. It has impacts that will be felt immediately."
Outbreak investigation is a unique field in that public health crises often emerge without warning. EIS officers must be prepared for the unexpected. At any time during their 2-year service, an officer could be pulled from their assignment and deployed to assist with urgent public health problems across the globe. For Mosites, the prospect of springing into action is beyond exciting.
"This is my dream job," she says. "It's a challenge certainly, but its impact can be felt among an entire community of people."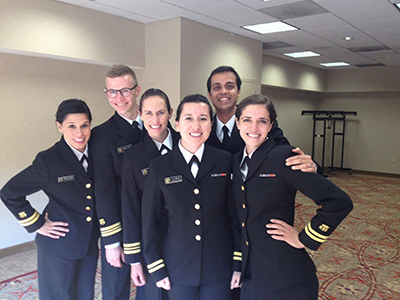 There are some unusual training opportunities that come with a post in Anchorage. In addition to brushing up on her bear awareness and moose avoidance skills, she has also been trained for surviving a small aircraft crash. To complete this training, she was buckled into a steel cage that simulated an aircraft cabin and dunked into a pool of water where, submerged and upside down, she had to unbuckle and escape to the surface.
The job is not for the risk adverse.
Not surprisingly, Mosites' commitment to this extraordinary line of work comes from her passion for protecting people. During her time with the EIS, she hopes to gain hands-on experience in applied epidemiology and make a big impact on a large population.