News & Events
Alum Divya Patil receives Fulbright to study postpartum depression in India
At nearly 3,000 feet above sea level on the hot Deccan Plateau sits Bangaluru (Bangalore), India. From first glance, Bangaluru embodies the visitor's view of India – monsoon and marigold, colors and movement, old and new world. When looking closer at Bangaluru, an observer will see that it is exquisitely complex, balancing significant advancements in technology and science and crushing poverty and disease.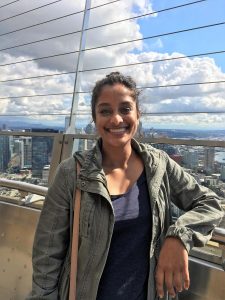 For Divya Patil (MPH '18), it is a place of further study on issues she's passionate about in a country that she is deeply connected to. As the child of Indian immigrants, Patil has always been interested in how social norms can impact health, particularly mental health. During her time at the University of Washington Department of Epidemiology (Epi), Patil looked at social determinants of health during pregnancy. This foundation will support her as she investigates postpartum depression in Bangaluru through a Fulbright Student Program.
1. What did you work on during your MPH?
During my MPH, I was a part of the Maternal and Child Health (MCH) program. Through classes in MCH and Epi, I had the opportunity to study social determinants of health during pregnancy. These classes helped me form the project that I wanted to do for my thesis. For my thesis, I used data from the National Longitudinal Survey of Youth 1979 (NLSY79) to investigate the association between maternal quality of employment during pregnancy and infant low birthweight. In addition to taking classes, I also served as a TA for the Epi department, and was a part of teaching teams for a couple of undergraduate classes.
2. What will you be doing with your Fulbright?
I will be working at the National Institute of Mental Health and Neurosciences (Nimhans) in Bengaluru, India on a project examining risk factors, particularly early life social determinants, for postpartum depression. I am excited to learn from the researchers at Nimhans and apply the skills that I have gained through my MPH during the Fulbright.
3. What interests you about this type of work?
I am the child of Indian immigrants and so I have had the great fortune of growing up with values from both American and Indian culture. Because of my upbringing, I have always been fascinated by the different norms that children grow up with based on their culture and how internalizing those norms can affect health, especially mental health during significant life events, such as pregnancy.
4. Why is this type of mental research important, particularly in India?
Postpartum depression has a high prevalence in many global communities including Indian women, and while the biological aspects of postpartum depression have been widely studied, there has been less attention on the social risk factors of it until recently. I am interested in these social risk factors and how they might differ across communities. Additionally, because of the high prevalence of postpartum depression, I think research into social exposures has the potential to impact or be relevant for a large segment of the population.
5. What do you hope to do in the future?
I hope to continue participating in research on the ways that society can better support women during pregnancy to ensure healthy perinatal outcomes for both women and children.