,
Dr. Fredric Wolf, whose highly cited meta-analysis work had an immeasurable impact on physician practices and patient outcomes, died July 23 at the age of 71. He had been battling two cancers for over a decade.
Wolf had a long career in both medical education and biomedical informatics. After six years in the Peace Corps in Costa Rica, he returned to the U.S. with the intent of getting an MS in education and then returning to Costa Rica as a teacher. However, his plans changed after he discovered a passion for medical education and quantitative research.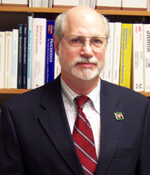 Wolf graduated from Kent State with his PhD in 1980. In 1982, he moved to the University of Michigan where he directed the instructional computing facility at the medical school and later created the Laboratory for Computing, Cognition, and Clinical Skills. His pioneering psychometric work on the validity of patient management problems as a clinical reasoning assessment technique laid the groundwork for establishing the use of "efficiency" measures rather than "proficiency" measures as the basis for scoring performance.
In 1995, Wolf became an active participant in the Cochrane Collaboration – a group of researchers and other healthcare professionals working together to produce credible, bias-free health information. Several of his meta-analyses and Cochrane systematic reviews are highly cited, including reviews that asthma self-management education and training programs have positive effects on children's and adolescent's quality of life. Cochrane reviews are internationally recognized as the highest standard in evidence-based healthcare resources.
In 1997, Fred moved from Michigan to the University of Washington, to serve as chair of the Department of Medical Education and Biomedical Informatics. Wolf played a critical role in fostering academic Biomedical and Health Informatics at the University of Washington, guiding the department to become a nationally prominent center for research and training. 
"The foundation [Wolf] laid during his 20 years at UW allowed both biomedical informatics and medical education at UW to grow to their full potential," said Peter Tarczy-Hornoch, current Chair of the Department of Medical Education and Biomedical Informatics.
Fred stepped down as Department Chair in 2012 to focus on his own research and teaching, which included the popular Department of Epidemiology course, Introduction to Systematic Reviews and Meta-analysis of Evidence.
"[Wolf's] contribution to public health has been remarkable," said Victoria Holt, Chair of the Department of Epidemiology at the University of Washington where Wolf was an adjunct professor. "He had an active interest in meta-analysis for over three decades and was a recognized expert on the topic."
Wolf fought cancer tirelessly for more than ten years, with an autologous bone marrow transplant and later an unrelated donor transplant.
Colleagues this week mourned the loss not just of an academic leader, but of a creative, versatile, out-of-the-box thinker and devoted husband and father.
"Wolf had a special place in Epi," Holt said. "He will be greatly missed."