News & Events
Paneen Petersen: One step closer to improving the health of Alaska Native people
Paneen Petersen, a tribal member of the Qikiktaġrukmiut, marked her graduation from the University of Washington School of Public Health last month by walking across the commencement stage wearing custom graduation kamiks (boots) and qupak (decoration) on her doctoral hood. Her kamiks were handmade with traditional hard-bottom soles crimped from oogruk (bearded seal) leather. The graduation kamiks were a precious gift from friends, family, and colleagues to celebrate her educational achievement and to integrate Iñupiaq culture with UW commencement regalia.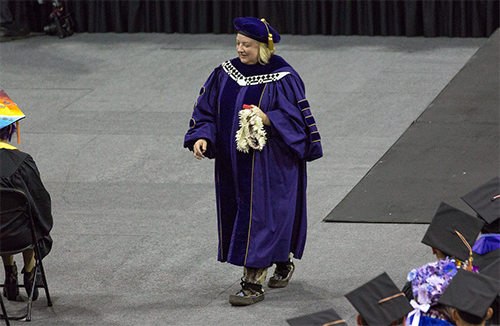 "I have had tremendous support from my community and the broader indigenous community," Paneen said. "There's a sense of joy in seeing other indigenous students wearing their traditional regalia to commencement activities because of the importance of positive representation for indigenous peoples. When you see someone from your community elevated like that, it feels like it elevates us all."
Paneen spent several hours hand sewing her qupak with pieces she cut from black and white hair-on cowhide. Paneen drew inspiration for the design from a National Geographic photo of a parka made by her grandmother and worn by Paneen's mother taken more than 60 years ago.
"I knew my dad was coming to commencement because he's my biggest fan, but I also wanted my mom there with me," Paneen said. This was the first time she sewed qupak. "It was hard," she laughed. "I have only seen one image of that parka and I don't own the rights to it."When Paneen left Alaska almost a decade ago for graduate school, she left with a goal to bring back much-needed expertise and skills to the Alaska Native community. Later this summer, Paneen will defend her dissertation and receive a doctoral degree in Epidemiology. Paneen has been working at the Fred Hutchinson Cancer Research Center with Dr. Ulrike Peters and The Genetics and Epidemiology of Colorectal Cancer Consortium. Her dissertation is focused on gene-environment interactions and the risk of colorectal cancer. More specifically, she explored whether colorectal cancer risk from genetic factors (e.g. the heritable portion of predicted gene expression in the colon) is modified by dietary risk factors or inflammation. For Paneen and all Alaska Native people, colorectal cancer is a dire health threat. Alaska Native people have among the highest recorded rates of colorectal cancer in the world. Over the last 30 years of surveillance, both the incidence of and mortality rates from colorectal cancer among Alaska Native people have been two-fold the rate among non-Hispanic White people. Colorectal cancer can be prevented with screening to detect and remove pre-cancerous polyps. Because colorectal rates are so much higher in Alaska Native people compared to other populations, in 2013 the Alaska Native Medical Center recommended Alaska Native people start screening at 40 years of age, instead of the 50 years of age recommended for the U.S. general population.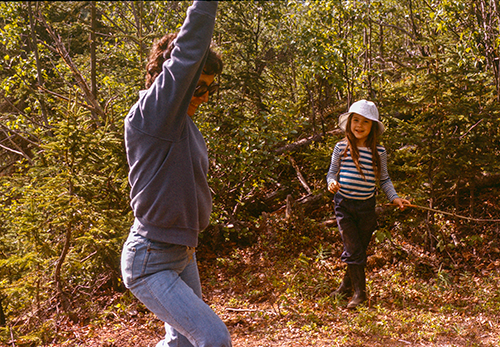 "My mom died from colorectal cancer at the age of 45. I was 12 years old," Paneen said. "I thought this tragedy was unique to my family. It wasn't until I worked for the Alaska Native Tribal Health Consortium that I realized this was a community-wide tragedy. We've lost so many others to this disease since my mom's death." Paneen's path to epidemiology was not direct. As a college student, she worked in climate research, but her interest in epidemiology piqued during a course on the evolution of humans and disease. After college, Paneen provided program administration and grant management support for Alaska Native non-profit organizations for almost a decade. Missing science, she turned her attention back to epidemiology, which she saw as "a perfect mix of health, culture, and behavior." In 2009, Paneen began an MPH program at the Oregon Health & Sciences University (OHSU) in biostatistics and epidemiology under the mentorship of Dr. Thomas Becker and with the support of a Native American Research Center for Health fellowship from the Northwest Portland Area Indian Health Board (NPAIHB). While at OHSU, Paneen considered how she could best serve her community and work to increase the capacity for Alaska Native health research while adhering to tenets of community-based participatory research.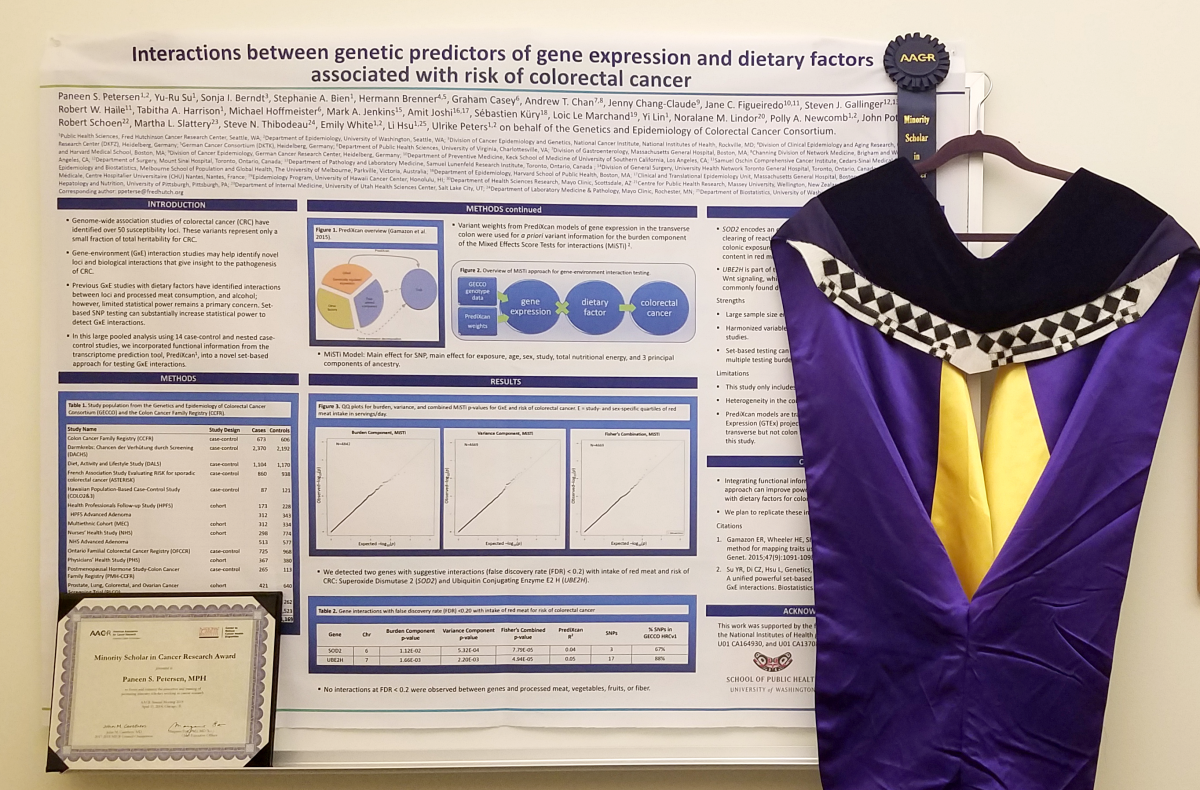 While she had only initially planned to pursue a master's degree, Dr. Becker, who is also an investigator at NPAIHB, encouraged her decision to continue to a doctoral program. "He told me he thought I could solve this colorectal cancer problem." Paneen smiled, "No pressure." Now, Paneen is one of few PhD-trained, indigenous epidemiologists focused on cancer, "a unicorn" as a director at the National Cancer Institute once told her. She hopes to soon find a role in Alaska to make meaningful contributions in research to address colorectal cancer and other health disparities among indigenous people. Additionally, she plans on mentoring and supporting the growth of other indigenous researchers, looking forward to a future where she is no longer "The Unicorn" in her field. "I always think about what I can do with new knowledge within the context of my community. A lot of what graduation means to me is wrapped up in a traditional Iñupiaq value: Avanmun Ikayuutiniq, our responsibility to help each other," Paneen said. "It feels good knowing that I will be making my contribution through something as fun as epidemiology."