,

Thursday, February 23, 2017
Department of Epidemiology staff member, Angie Marie Buck, was nominated for the UW Distinguished Staff Award. The awards program, established in 1997, honors outstanding staff based on their extraordinary accomplishments and contributions to their departments and the University.
Angie's nomination is a reflection of her ongoing dedication to the Department of Epidemiology's core mission. As a valued staff member for nearly two decades, she has forged lasting relationships with faculty, staff, and students. Letters supporting her nomination note that Angie consistently finds ways to assist across all units and cares for her colleagues as friends.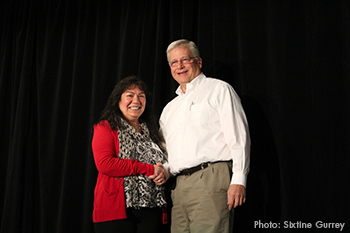 Although Angie serves officially as the Assistant to the Chair and Academic HR manager, her performance consistently goes beyond her formal job title. Known as the go-to person in the office, she enthusiastically oversees everything from faculty appointments and peer review processes to event planning. Serving as a member on the Department's Executive Leadership Team, she brings vast institutional and departmental knowledge to improve the Department's functioning. She exemplifies the spirit of service and steps up when she sees an unmet need.
"Angie is the kind of employee that makes UW great," said Victoria Holt, Chair of the Department of Epidemiology. "She is the heart and soul of our department and richly deserving of this honor."
Angie was honored at a university-wide reception on February 23 for all Distinguished Staff nominees.