,

Wednesday, September 20, 2017
As the number of mumps cases across Washington State continues to rise, Izzy Brandstetter, a Disease Research and Intervention Specialist at Public Health – Seattle & King County and Master's of Public Health student in Epidemiology at the UW School of Public Health, is busy helping to understand and slow the spread of the disease.
Mumps is a contagious virus that causes fever, headache, muscle aches, puffy cheeks and jaw pain. In Washington, health care providers, facilities, and labs are required to notify public health authorities of suspected cases.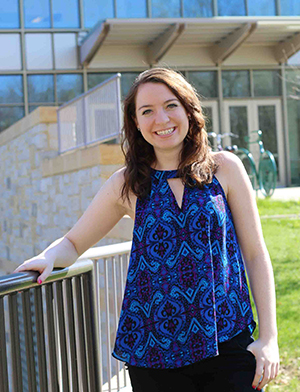 "That's when our investigative work begins," Brandstetter says. "I individually question people that have been tested in an attempt to figure out where they may have been exposed."
Pinpointing the source of exposure is not an easy task. Illnesses like mumps spread quickly when droplets from the cough or sneeze of an infected person travel through the air to people nearby. The germs can live on surfaces for hours. It can take between 12 and 25 days from exposure before symptoms begin to appear. You could get it from the grocery store even though you never saw an infected person, Brandstetter notes.
The threat of an outbreak requires coordinated communication and partnership. When Brandstetter and her team identify a probable or confirmed case of mumps, they immediately notify workplaces, schools, and healthcare professionals and encourage infected people to stay home for at least five days.
"It puts everyone on a higher watch for symptoms," she says. "We are trying to identify as many cases as possible."
Poised on the front lines of an outbreak, health investigators like Brandstetter have to be prepared to move quickly to stop the spread of disease. Finding patients early in the course of illness can significantly reduce the risk of exposure to others.
Brandstetter started this journey into disease investigation as a member of the UW Department of Epidemiology's Student Epidemic Action Leaders team, better known as SEAL team. Founded to help bridge the gap between academic epidemiology training and epidemiology in practice, SEAL team members complete four weeks of outbreak investigation training and then sign up for field assignments at local health jurisdictions where they play a key role in real outbreaks.
This could be intimidating, but they are trained for it.
"When I started my field assignment, I was interviewing people potentially exposed to mumps. Even though I had never conducted real interviews, we did so much practice on SEAL team that I felt like I was walking in with experience," Brandstetter recalls.
Immediately thrust into the fast-paced world of outbreak response, she participated collaboratively in the ever-evolving public health environment. This rare opportunity for legitimate career exploration is unlike most internship opportunities.
"You come in [to the health department] for your assignment, they train you, and then you're doing the work alongside everyone else there," she says. "I felt like I belonged to the group."
The health jurisdictions are grateful for the help too. With resources already stretched, the influx in demand In the midst of an outbreak can be challenging.
"When we are in incident command managing an outbreak on top of increased routine work, these students are incredibly helpful," says Krista Rietberg of Public Health – Seattle & King County. "We would be lost without them."
Brandstetter's field assignment was a pivotal moment in her career. It allowed her to discover her interests and capabilities and make confident choices about the future, she explains.
"I started grad school without knowing exactly where it would lead me, but when I joined the SEAL team, it became much clearer," she says.
She started working on the mumps outbreak at Public Health – Seattle & King County as a SEAL in November 2016 when the outbreak was relatively new. In February 2017, she transitioned to full-time employment.
"It's exciting to be able to discern what you want to do," Brandstetter says. "I have a job that I'm excited to go to in the morning."