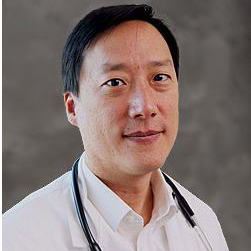 Associate Professor, Global Health
Associate Professor, Medicine
Adjunct Associate Professor, Epidemiology

Education
MD
Medicine (MD), University of Chicago, 1998
MPH
International Health, Harvard University, 1998
BA
Biology, English, Oberlin College, 1990
Contact Info
325 Ninth Avenue
Box 359909
Seattle, WA 98104
Tel: 206-543-4278
mhchung@uw.edu
Dr. Chung has been living and working in Nairobi, Kenya and Hanoi, Vietnam since 2002. At these sites in Africa and Southeast Asia, he has been involved in HIV treatment and care, field epidemiology research, and medical education. He has led several randomized controlled trials on a variety of topic including perinatal transmission of HIV, adherence to antiretroviral medications, and treatment of cervical intraepithelial neoplasia among HIV-positive women. In 2004, Dr. Chung co-founded the Coptic Hope Center for Infectious Diseases, an HIV clinic in Nairobi which is one of the largest single-site antiretroviral treatment centers in Africa. He is the Director of the Treatment, Research, and Expert Education (TREE) program which is dedicated to addressing the health needs of people living in resource-limited settings through quality medical care, academic research, training and education. Dr. Chung's current interests include cervical cancer screening and treatment of HIV-positive women, education of health care workers in resource-limited settings through the internet, and HIV treatment of injection drug users in Vietnam.
Projects
Addressing the HIV/AIDS epidemic by establishing centers that cater to the physical, psychological, nutritional and spiritual needs of those who have HIV/AIDS. The Hope Center, located in Nairobi, currently works with an average of 6,000 patients. The center is unique in that it provides all services free of charge.
Research Interests
Dr. Chung has conducted several randomized clinical trials in Kenya including examining the effects of antiretroviral drugs on breast milk shedding of HIV-1 and the consequences of behavioral interventions on adherence to highly active antiretroviral therapy (HAART). His research has generally focused on perinatal transmission of HIV-1 and delivery of HIV health services in resource-limited settings. Other research studies he is leading or coordinating include the efficacy of cervical cancer screening and treatment among HIV-positive women, the evolution of antiretroviral drug resistance among women exposed to perinatal nevirapine, and the effect of lamivudine monotherapy on chronic hepatitis B among HIV co-infected individuals.
In 2003, Dr. Chung established the Tumaini Project to treat indigent HIV-infected patients with free antiretroviral medications. With sponsorship from the Slum Doctor Programme in Bellingham, WA, he was able to treat over a dozen patients. Seeking a clinical setting to treat these patients, Dr. Chung helped the Coptic Hospital in Kenya establish the Hope Clinic, a free HIV care and treatment clinic. In 2004, this relationship led to a collaboration between the University of Washington and the Coptic Mission to provide free HIV care and treatment to Kenyans with support from the U.S. President's Emergency Plan for AIDS Relief (PEPFAR). By 2009, over 10,000 HIV-infected Kenyans have received medical treatment at the Coptic Hope Center for Infectious Diseases, and Dr. Chung continues to treat patients in Nairobi.
Dr. Chung believes that educating Kenyans to provide care and treatment is necessary to meet the long-term health demands of the country. Towards this end, he conducts case conferences and journal club meetings at the Coptic Hope Center and Kenyatta National Hospital and mentors clinical officers and Internal Medicine residents and medical students at the University of Nairobi. He leads the UW in partnership with the University of Nairobi to teach HIV program management, health economics, and health informatics in an HIV management fellowship based in Kenya. Through this PEPFAR-funded fellowship program, Dr. Chung provides UW courses and lectures to Kenyans through live internet-based learning. Dr. Chung has helped pioneer this use of the internet to deliver UW academic courses to an international audience, building upon the principle that better medical education leads to better patient care.
Publications
Chung MH, McKenzie KP, De Vuyst H, Richardson BA, Rana F, Pamnani R, Njoroge JW, Nyongesa-Malava E, Sakr SR, John-Stewart GC, Mugo NR. (2013). Comparing Pap smear, VIA, and HPV cervical cancer screening methods among HIV-positive women by immune status and antiretroviral therapy. AIDS, 27(18), 2909-2919. PMID: 23842133.
Chung MH, Richardson BA, Tapia K, et al. A randomized controlled trial comparing the effects of counseling and alarm device on HAART adherence and virologic outcomes. PLoS Med. 2011; 8(3): e1000422. PMCID: PMC3046986.
Chung MH, Severynen AO, Hals MP, Harrington RD, Spach DH, Kim HN. (2012). Offering an American Graduate Medical HIV Course to Health Care Workers in Resource-Limited Settings via the Internet. PLoS ONE. 7(12): e52663. PMCID: PMC3527561.
De Vuyst H, Chung MH, Baussano I, Mugo NR, Tenet V, van Kemenade FJ, Rana FS, Sakr SR, Meijer CJLM, Snijders PJF, Franceschi S. (2013). Comparison of HPV-DNA testing in exfoliated cells and tissue biopsies among HIV-positive women in Kenya. International Journal of Cancer, e-pub Feb 27 2013. PMCID: PMC3707962.
Marson KG, Tapia K, Kohler P, McGrath CJ, John-Stewart GC, Richardson BA, Njoroge JW, Kiarie JN, Sakr SR, Chung MH. (2013). Male, mobile, and moneyed: loss to follow-up vs. transfer of care in an urban African antiretroviral treatment clinic. PLOS ONE. 8(10): e78900. PMCID: PMC3812001.
Van der Kop ML, Karanja S, Thabane L, Marra C, Chung MH, Gelmon L, Kimani J, Lester RT. (2012). In-depth analysis of patient-clinician cell phone communication during the WelTel Kenya1 antiretroviral adherence trial. PLoS ONE, 7(9): e46033. PMCID: PMC3457960.
Lester RT, Mills EJ, Kariri A, Ritvo P,
Chung MH
, et al. The HAART cell phone adherence trial (WelTel Kenya1): a randomized controlled trial protocol.
Trials.
2009; 10: 87
In The News
Health Interventions on Coffee Farms in Kenya
UW School of Public Health News, 12/09/2016
Emerging Market Medical Education Goes Digital
Forbes, 03/17/2015