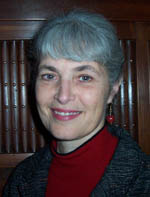 Affiliate Professor, Epidemiology


Senior Program Officer, PATH
Director, HPV Vaccines Project
Associate Director, Reproductive Health
Education
PhD
Epidemiology, University of Washington, 1991
MPH
International Health, University of California Los Angeles, 1977
Research Interests
Dr. Tsu's work is focused on practical applications of epidemiology in low-resource countries to evaluate new public health interventions. She has conducted research in Asia, Africa, Ukraine, and Latin America.

Women's reproductive health, especially prevention and control of women's cancers (breast and cervix) in low-resource settings. Program evaluation. Maternal and newborn health, especially evaluation of new technologies for low-resource settings.
Teaching Interests
Women's health in low-resource settings; implementation science.
Publications
Tsu VD, Cernuschi T, LaMontagne DS. Lessons learned from HPV vaccine delivery in low-resource settings and opportunities for HIV prevention, treatment, and care among adolescents. J Acquir Immune Defic Syndr. 66 Suppl 2:S209-16, 2014.

Mvundura M, Tsu V. Estimating the costs of cervical cancer screening in high-burden Sub-Saharan African countries. Int J Gynaecol Obstet. 126:151–155, 2014.

Tsu VD, Jeronimo J, Anderson BO. Why the time is right to tackle breast and cervical cancer in low-resource settings. Bull World Health Organ. 91(9):683-90, 2013.

Tsu VD, Jeronimo J. Accelerating the reduction in cervical cancer: What can we learn from the Safe Motherhood movement? Int J Gynaecol Obstet. 123(1):1-3, 2013.

Tsu VD, Winkler JL, Anderson BO, Sarria G, Jeronimo J. Coordinated training on early detection and diagnosis of breast cancer across different levels of health workers: An example from Peru. In MK Shetty (Ed), Screening and Early Diagnosis of Breast and Gynecological Cancers: An Integrated Approach in Developing Countries. New York: Springer, 2013.

Markowitz LE, Tsu V, Deeks SL, Cubie H, Wang SA, Vicari AS, Brotherton JM. Human papillomavirus vaccine introduction - the first five years. Vaccine, 30 (Suppl 5):F139-48, 2012.

Bosch FX, Tsu V, Vorsters A, Van Damme P, Kane MA. Reframing cervical cancer prevention. Expanding the field towards prevention of human papillomavirus infections and related diseases. Vaccine, 30 (Suppl 5):F1-F11, 2012.

Tsu V, Murray M, Franceschi S. Human papillomavirus vaccination in low-resource countries: lack of evidence to support vaccinating sexually active women. Br J Cancer. 107:1445-50, 2012.


In The News
Science,Vaccines and Women's Health Suffer Deadly Setbacks in India
Humanosphere, 12/11/2013
HPV Vaccine Gains Favor in Sub-Saharan Africa
Maclean, 01/11/2013