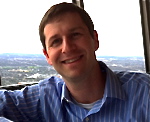 Affiliate Assistant Professor, Epidemiology

Education
MS
Epidemiology, University of Washington, 2004
PhD
Epidemiology, University of Washington, 2010
BA
Neurobiology, Cornell University, 1998
Contact Info
University of Arizona
Box 245211
Mel and Enid Zuckerman College of Public Health Division of Epidemiology & Biostatistics
1295 N. Martin Ave.
Tucson, AZ 85724
Tel: 520-626-7008
eoren@email.arizona.edu
Eyal Oren is an Assistant Professor, and infectious disease and social epidemiologist at the Division of Epidemiology & Biostatistics, Mel & Enid Zuckerman College of Public Health, University of Arizona (UA). His research group focuses on investigating respiratory diseases. The group works on multidisciplinary, collaborative projects that are innovative and emphasize new tools and technologies. Methodologically, the focus is on the intersection between social, environmental and spatial epidemiologic methods, and their application to health disparities.

Eyal holds a PhD and MS in epidemiology from the University of Washington in Seattle.
Links
oren.faculty.arizona.edu
Research Interests
Infectious disease epidemiology
Tuberculosis (both active disease and latent infection)
Molecular epidemiology
Epidemiology in public health practice
Surveillance systems
Assessment of new technologies
Social epidemiology and health disparities
Global and border health
Program evaluation, Monitoring & Evaluation
Climate change and respiratory health outcomes
Publications
Please go to Google Scholar for an updated list of publications