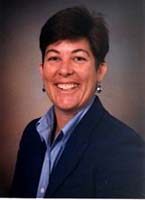 Affiliate Professor, Epidemiology

Education
PhD
Epidemiology, University of Washington, 1996
MS
Nutritional Sc, California State University, Chico, 1991
Contact Info
University of California (Irvine)
Department of Epidemiology
Irvine Hall, Room 244-A
Irvine, CA 92697
Tel: 949-824-9054
kedward1@uci.edu
Research Interests
Dr. Edwards' primary research interest is in the area of genetic epidemiology, where she focuses most of her research on diabetes and the metabolic syndrome . However, she works on a broad range of topics and disease areas that also include cardiovascular disease, melanoma and Parkinson's disease. Her work currently involves using family-based approaches and sequencing to identify genetic influences with pleiotropic effects on diabetes and the metabolic syndrome. She is also interested in interactions between environmental factors (diet) and genetic susceptibility to complex disease.
Publications
Edwards KL, Wan JY, Hutter CM, Fong PY, Santorico S. Multivariate Linkage Scan for Metabolic Syndrome in families with type 2 diabetes. Obesity. 2011; 19(6):1235-43. PMID: 21183932
Bowen D, Jabson J, Haddock N, Edwards K. Skin Care Behaviors among Melanoma Survivors. Psychooncology. 2011 Jul 21.doi:10.1002/pon.2017. PMID: 21780240.
Edwards KL, Lemke AA, Trinidad SB, Lewis SM, Starks H, Snapinn KW, Griffin MQ, Wiesner GL, Burke W, and the GRRIP Consortium. Genetics Researchers' and IRB Professionals' Attitudes toward Genetic Research Review: A Comparative Analysis. Genet Med. 2012;14(2):236-42. PMID: 22241102
*Hall TO, Doherty-Renz A, Snapinn K, Edwards KL. Awareness and uptake of direct-to-consumer genetic testing among cancer cases, relatives and controls: The Northwest Cancer Genetics Network. Genetic Testing and Molecular Biomarkers, 2012 June 25 (Epub ahead of print) PMID: 22731649
*Wan JY,
Edwards KL
, Santorico SA. Investigating Genetic and Environmental Correlations between Traits of the Metabolic Syndrome in the Multi-Ethnic GENNID Study. Journal of Biostatistics, 2012 In press.
In The News
Reaffirming the Value of Indigenous Perspectives
UW School of Public Health News, 04/22/2013